700411 - Letter to Satsvarupa written from Los Angeles
From Vanisource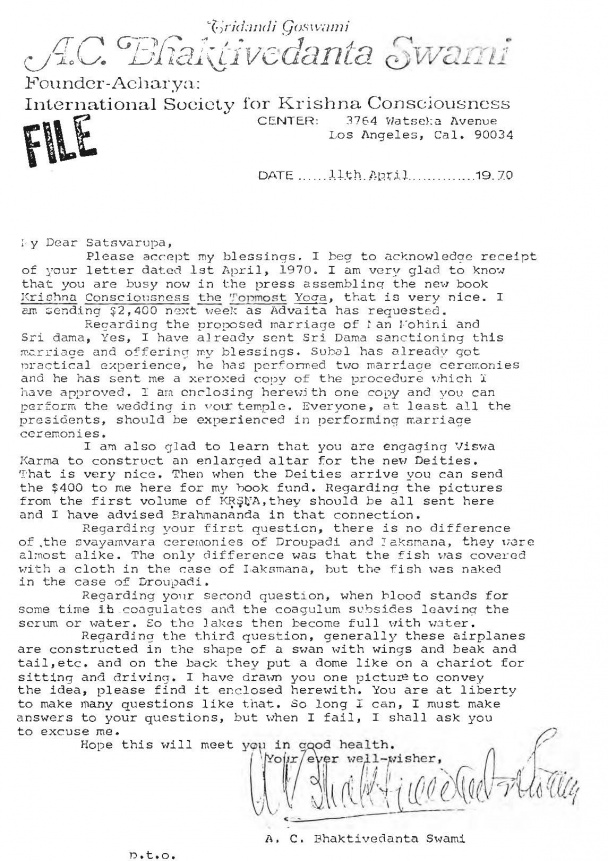 Tridandi Goswami
A.C. BHAKTIVEDANTA SWAMI
Founder-Acharya:
International Society For Krishna Consciousness Inc.
3764 Watseka Avenue
Los Angeles, Cal. 90034

April 11, 1970
My Dear Satsvarupa,
Please accept my blessings. I beg to acknowledge receipt of your letter dated 1st April, 1970. I am very glad to know that you are busy now in the press assembling the new book Krishna Consciousness the Topmost Yoga, that is very nice. I am sending $2,400 next week as Advaita has requested.
Regarding the proposed marriage of Manmohini and Sri dama, Yes, I have already sent Sri Dama sanctioning this marriage and offering my blessings. Subal has already got practical experience, he has performed two marriage ceremonies and he has sent me a xeroxed copy of the procedure which I have approved. I am enclosing herewith one copy and you can perform the wedding in your temple. Everyone, at least all the presidents, should be experienced in performing marriage ceremonies.
I am also glad to learn that you are engaging Visvakarma to construct an enlarged altar for the new Deities. That is very nice. Then when the Deities arrive you can send the $400 to me here for my book fund. Regarding the pictures from the first volume of KRSNA, they should be all sent here and I have advised Brahmananda in that connection.
Regarding your first question, there is no difference of the svayamvara ceremonies of Draupadi and Laksmana, they were almost alike. The only difference was that the fish was covered with a cloth in the case of Laksmana, but the fish was naked in the case of Draupadi.
Regarding your second question, when blood stands for some time it coagulates and the coagulum subsides leaving the serum or water. So the lakes then become full with water.
Regarding the third question, generally these airplanes are constructed in the shape of a swan with wings and beak and tail, etc. and on the back they put a dome like on a chariot for sitting and driving. I have drawn you one picture to convey the idea, please find it enclosed herewith. You are at liberty to make many questions like that. So long I can, I must make answers to your questions, but when I fail, I shall ask you to excuse me.
Hope this will meet you in good health.
Your ever well-wisher,



A.C. Bhaktivedanta Swami