700721 - Letter to Sri Poddarji written from Los Angeles
From Vanisource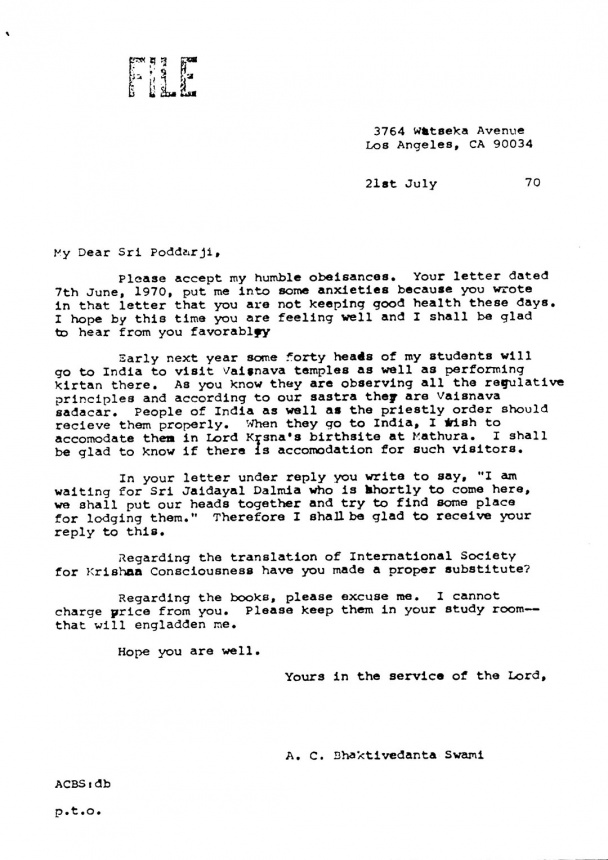 3764 Watseka Avenue
Los Angeles, CA 90034

21st July                   70


My Dear Sri Poddar ji,
Please accept my humble obeisances. Your letter dated 7th June, 1970, put me into some anxieties because you wrote in that letter that you are not keeping good health these days. I hope by this time you are feeling well and I shall be glad to hear from you favorably.
Early next year some forty heads of my students will go to India to visit Vaisnava temples as well as performing kirtan there. As you know they are observing all the regulative principles and according to our sastra they are Vaisnava sadacara. People of India as well as the priestly order should receive them properly. When they go to India, I wish to accommodate them in Lord Krsna's birthsite at Mathura. I shall be glad to know if there is accommodation for such visitors.
In your letter under reply you write to say, "I am waiting for Sri Jayadayal Dalmia who is shortly to come here, we shall put our heads together and try to find some place for lodging them." Therefore I shall be glad to receive your reply to this.
Regarding the translation of International Society for Krishna Consciousness have you made a proper substitute?
Regarding the books, please excuse me. I cannot charge price from you. Please keep them in your study room--that will engladden me.
Hope you are well.
Yours in the service of the Lord,


A.C. Bhaktivedanta Swami
ACBS:db
p.t.o.