700806 - Letter to Upendra written from Los Angeles
From Vanisource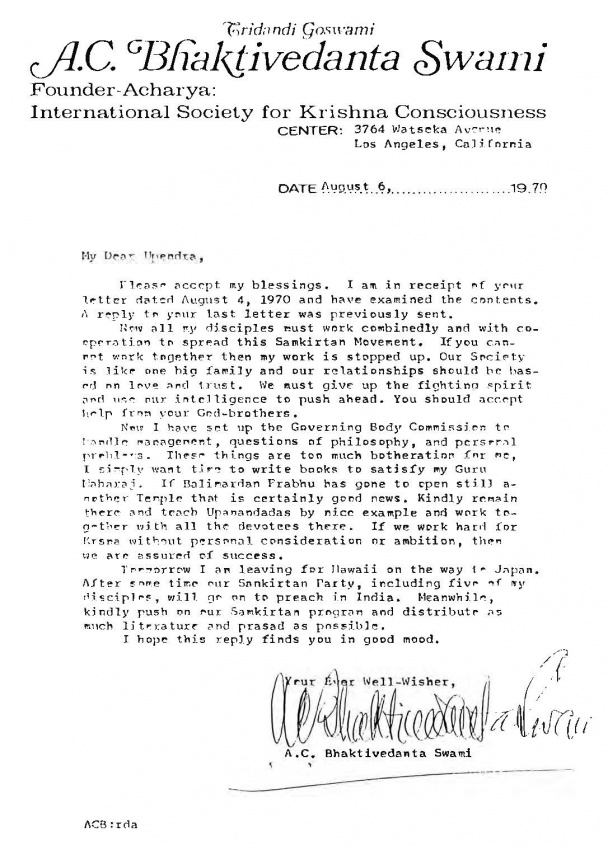 Tridandi Goswami
A.C. Bhaktivedanta Swami
Founder-Acharya:
International Society for Krishna Consciousness
CENTER:  3764 Watseka Avenue
               Los Angeles, California

DATE August..6,...........................19.70


My Dear Upendra,
Please accept my blessings. I am in receipt of your letter dated August 4, 1970 and have examined the contents. A reply to your last letter was previously sent.
Now all my disciples must work combinedly and with cooperation to spread this Samkirtan Movement. If you cannot work together then my work is stopped up. Our Society is like one big family and our relationships should be based on love and trust. We must give up the fighting spirit and use our intelligence to push ahead. You should accept help from your God-brothers.
Now I have set up the Governing Body Commission to handle management, questions of philosophy, and personal problems. These things are too much botheration for me, I simply want time to write books to satisfy my Guru Maharaj. If Balimardan Prabhu has gone to open still another Temple that is certainly good news. Kindly remain there and teach Upanandadas by nice example and work together with the devotees there. If we work hard for Krsna without personal consideration or ambition, then we are assured of success.
Tomorrow I am leaving for Hawaii on the way to Japan. After some time our Sankirtan Party, including five of my disciples, will go on to preach in India. Meanwhile, kindly push on our Samkirtan program and distribute as much literature and prasad as possible.
I hope this reply finds you in good mood.