700818 - Letter to My Beloved Disciples at New Vrindaban written from Tokyo
From Vanisource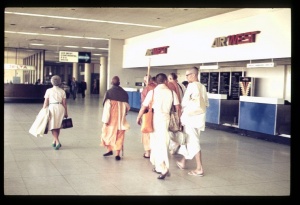 August 18, 1970

My Beloved Disciples
At New Vrndavana
RD 3, Moundsville, WV 26041, USA
6-16, 2-chome, Ohhashi
Meguro-ku, Tokyo, Japan

My Dear Shamadasi, Theresa, Sanat Kumar Brahmacary, Jagatananda, and Tarunidasi;
My Dear Jadunandan, Chris, Stan, Patita Pavana, Barbara, Sandinidasi, Pamela and Maria;
My Dear Ekendra and DDD; My Dear John, Nathan, Richard, Jackson, Rasananda, Kenneth and Troy;
My Dear Trivikram, Yaminidasi, Theresa, Devakinandan, Ranadhir, Martin and Bhagavatananda;
My Dear Peter, Girish, Birbhadra, Paramananda and Satyabhama,
Please accept my blessings. I was so happy to receive all your nice letters from New Vrindavana and have read them all with great pleasure. Now, however, I have come to Japan to arrange for some printing work and I am staying at our Tokyo center.
I am very much encouraged to know that you are all advancing in Krsna consciousness at New Vrndavana and I am very much eager to see your transcendental community grow still more to become and ideal Krsna conscious asrama. So please follow the regular schedule of Krsna activities and be happy.
I hope you are all well in Krsna consciousness.
Your ever well-wisher,
A.C. Bhaktivedanta Swami
ACBS:ds