700821 - Letter to N.C. Chatterji written from Tokyo
From Vanisource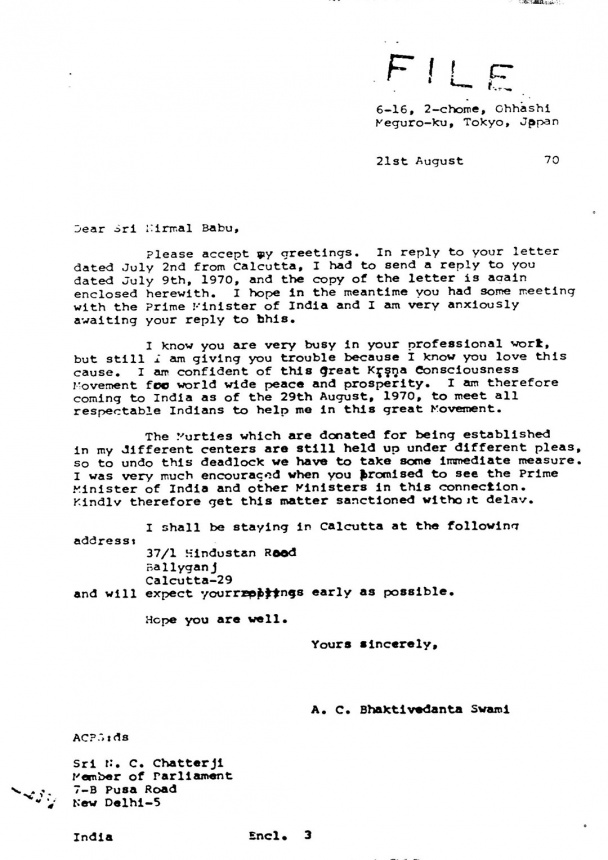 6-16, 2-chome, Ohhashi
Meguro-ku, Tokyo, Japan

21st August                 70


Dear Sri Nirmal Babu,
Please accept my greetings. In reply to your letter dated July 2nd from Calcutta, I had to send a reply to you dated July 9th, 1970, and the copy of the letter is again enclosed herewith. I hope in the meantime you had some meeting with the Prime Minister of India and I am very anxiously awaiting your reply to this.
I know you are very busy in your professional work, but still I am giving you trouble because I know you love this cause. I am confident of this great Krsna Consciousness Movement for worldwide peace and prosperity. I am therefore coming to India as of the 29th August, 1970, to meet all respectable Indians to help me in this great Movement.
The Murties which are donated for being established in my different centers are still held up under different pleas, so to undo this deadlock we have to take some immediate measure. I was very much encouraged when you promised to see the Prime Minister of India and other Ministers in this connection. Kindly therefore get this matter sanctioned without delay.
I shall be staying in Calcutta at the following address:
37/1 Hindustan Road
Ballyganj
Calcutta-29
and will expect your reply early as possible.
Hope you are well.
Yours sincerely,


A.C. Bhaktivedanta Swami
ACBS:ds
Sri N.C. Chatterji
Member of Parliament
7-B Pusa Road
New Delhi - 5
India
Encl.   3