700823 - Letter to Umapati written from Tokyo
From Vanisource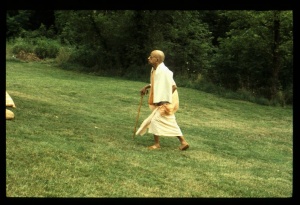 August 23, 1970

Hamburg
My Dear Umapati,
Please accept my blessings. I beg to acknowledge receipt of your letter dated Hamburg August 19th, 1970, and I am pleased to learn that you are all engaged in the publication work. I shall be so much pleased to see the French and German BTG's published as soon as possible.
What you have heard about me that I have left the U.S. for the time being is more or less correct. I left L.A. on the 7th August. I lived for one day in Honolulu on my way to Japan and then I have come to Tokyo on Saturday the 8th August, 1970. I am starting for Calcutta on the 29th August to see if the World Sankirtana Party could be organized and to see if our Mayapur Temple could be constructed.
The Mayapur matter is lingering since a long time, so we are going to Calcutta, seven including one Japanese Brahmacari, to complete the transaction.
I am so pleased to note your Vaisnava attitude in your letter under reply. In this connection the incidence which occurred during Lord Caitanya's time may be remembered. One very intimate devotee of Lord Caitanya, most probably Vasudeva Dutta, requested Lord Caitanya to deliver all the conditioned souls in his presence. He said, "Let me suffer for their sinful actions, but my dear Lord You take them with You back to home, back to Godhead." So this attitude of offering facilities to others for going back to home, back to Godhead, and personally accepting their suffering thereof is perfect Vaisnava Attitude. Perhaps you know I have already formed a Governing Body Commission, so in my absence they will manage the affairs of the Society. I shall begin my 75th year from the Vyasa Puja Day and if you all combined together manage the affairs of the Society nicely, that will give me a great pleasure.
I shall try to do some work in India regarding the Krsna Consciousness Movement although my physical strength is diminishing. But still now if all you cooperate with me with your full young energy I am still competent to work with you with greater energy.
Hope this will meet you in good health.
Your ever well-wisher,
A.C. Bhaktivedanta Swami
ACBS:ds