701004 - Letter to Daivisakti and Nayanabhirama written from Calcutta
From Vanisource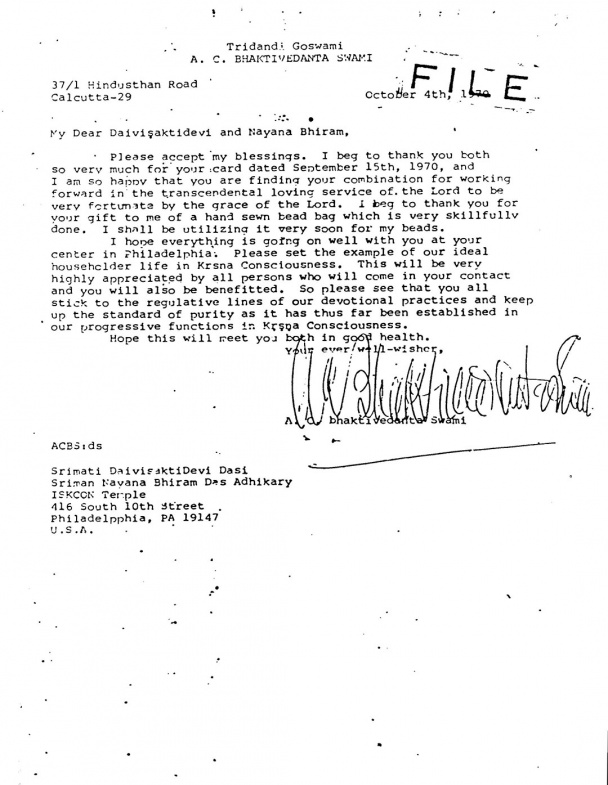 Tridandi Goswami
A.C. BHAKTIVEDANTA SWAMI
37/1 Hindustan Road
Calcutta-29, India
October 4th, 1970

My Dear Daivisaktidevi and Nayana Bhiram,
Please accept my blessings. I beg to thank you both so very much for your card dated September 15, 1970, and I am so happy that you are finding your combination for working forward in the transcendental loving service of the Lord to be very fortunate by the grace of the Lord. I beg to thank you for your gift to me of a hand sewn bead bag which is very skillfully done. I shall be utilizing it very soon for my beads.
I hope everything is going on well with you at your center in Philadelphia. Please set the example of our ideal householder life in Krsna Consciousness. This will be very highly appreciated by all persons who will come in your contact and you will also be benefited. So please see that you all stick to the regulative lines of our devotional practices and keep up the standard of purity as it has thus far been established in our progressive functions in Krsna Consciousness.
Hope this will meet you both in good health.
Your ever well-wisher,



A.C. Bhaktivedanta Swami
ACBS:ds
Srimati Daivisaktidevi Dasi
Sriman Navana Bhiram Das Adhikary
ISKCON Temple
416 South 10th Street
Philadelphia, PA 19147
U.S.A.