701103 - Letter to Dr. Chakravarti written from Bombay
From Vanisource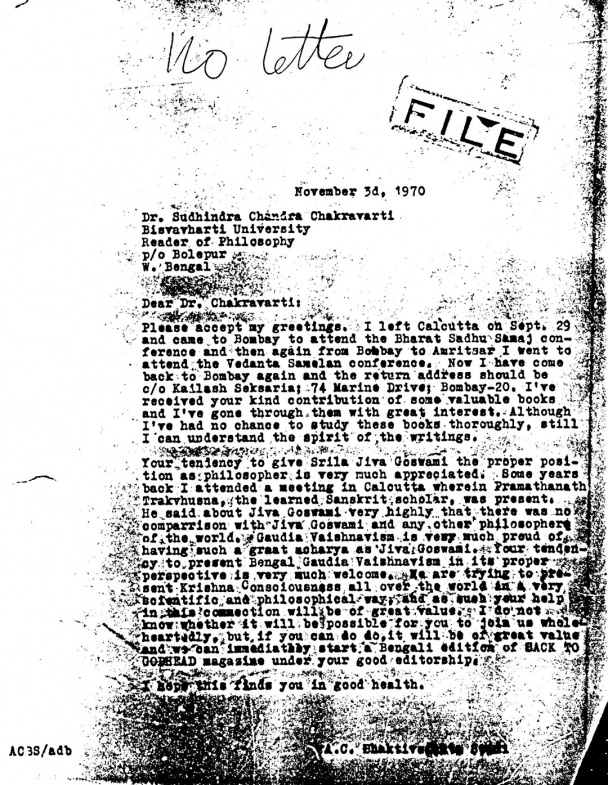 No Letter [handwritten]

November 3rd, 1970
Dr. Sudhindra Chandra Chakravarti
Bisvavharti University
Reader of Philosophy
p/o Bolepur,
W.Bengal


Dear Dr. Chakravarti:
Please accept my greetings. I left Calcutta on Sept. 29 and came to Bombay to attend the Bharata Sadhu Samaj conference and then again from Bombay to Amritsar I went to attend the Vedanta Samelan conference. Now I have come back to Bombay again and the return address should be c/o Kailash Seksaria; 74 Marine Drive; Bombay-20. I've received your kind contribution of some valuable books and I've gone through them with great interest. Although I've had no chance to study these books thoroughly, still I can understand the spirit of the writings.
Your tendency to give Srila Jiva Goswami the proper position a philosopher is very much appreciated. Some years back I attended a meeting in Calcutta wherein Pramathanath Trakvhusna, the learned Sanskrit scholar, was present. He said about Jiva Goswami very highly that there was no comparison with Jiva Goswami and any other philosophers of the world. Gaudia Vaishnavism is very much proud of having such a great acarya as Jiva Goswami. Your tendency to present Bengal Gaudia Vaishnavism in its proper perspective is very much welcome. We are trying to present Krishna Consciousness all over the world in a very scientific and philosophical way, and as such your help in this connection will be of great value. I do not know whether it will be possible for you to join us whole-heartedly, but if you can so do, it will be of great value and we can immediately start a Bengali edition of BACK TO GODHEAD magazine under your good editorship.
Hoping this finds you in good health.


A.C. Bhaktivedanta Swami
ACBS:adb