701109 - Letter to Vrndavana Candra written from Bombay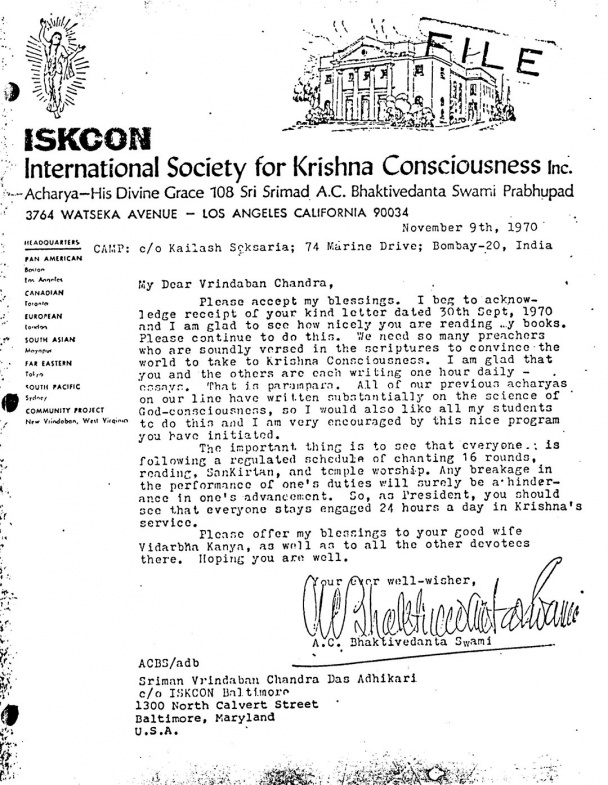 ISKCON
International Society for Krishna Consciousness Inc.
Acharya-His Divine Grace 108 Sri Srimad A.C.Bhaktivedanta Swami Prabhupad
3764 WATSEKA AVENUE - LOS ANGELES CALIFORNIA 90034
November 9th, 1970
CAMP: c/o Kailash Seksaria; 74 Marine Drive, Bombay-20, India
HEADQUARTERS
PAN AMERICAN
Boston
Los Angeles
CANADIAN
Toronto
EUROPEAN
London
SOUTH ASIAN
Mayapur
FAR EASTERN
Tokyo
SOUTPACIFIC
Sydney
COMMUNITY PROJECT
New Vrindaban, West Virginia

My Dear Vrindaban Chandra,
Please accept my blessings. I beg to acknowledge receipt of your kind letter dated 30th Sept, 1970 and I am glad to see how nicely you are reading my books. Please continue to do this. We need so many preachers who are soundly versed in the scriptures to convince the world to take to Krishna Consciousness. I am glad that you and the others are each writing one hour daily essays. That is parampara. All of our previous acharyas on our line have written substantially on the science of God-consciousness, so I would also like all my students to do this and I am very encouraged by this nice program you have initiated.
The important thing is to see that everyone is following a regulated schedule of chanting 16 rounds, reading, Sankirtan, and temple worship. Any breakage in the performance of one's duties will surely be a hindrance in one's advancement. So, as President, you should see that everyone stays engaged 24 hours a day in Krishna's service.
Please offer my blessings to your good wife Vidarbha Kanya, as well as to all the other devotees there. Hoping you are well.
Your ever well-wisher,



A.C. Bhaktivedanta Swami
ACBS/adb
Sriman Vrindaban Chandra Das Adhikari
c/o ISKCON Baltimore
1300 North Calvert Street
Baltimore, Maryland
U.S.A.