701129 - Lecture at Podar College at Karman - Bombay
From Vanisource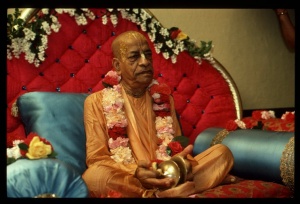 701129LE-Bombay - November 29, 1970 - 02:33 Minutes

Devotee: Śrīla Prabhupāda speaks to a select audience at Podar College at Karman, near Bombay. November 29th morning.
Prabhupāda: Hare Kṛṣṇa Hare Kṛṣṇa Kṛṣṇa Kṛṣṇa . . . (pause)
oṁ ajñāna-timirāndhasya jñānāñjana-śalākayā
cakṣur unmīlitaṁ yena tasmai śrī-gurave-namaḥ
śrī-caitanya-mano-'bhīṣṭaṁ sthāpitaṁ yena bhū-tale
svayaṁ rūpaḥ kadā mahyaṁ dadāti sva-padāntikam
(Śrī Guru Praṇāma)
vande 'haṁśrī-guroḥśrī-yuta-pada-kamalaṁśrī-gurūn vaiṣṇavāṁś ca
śrī-rūpaṁ sāgrajātaṁ saha-gaṇa-raghunāthānvitaṁ taṁ sa-jīvam
sādvaitaṁ sāvadhūtaṁ parijana-sahitaṁ kṛṣṇa-caitanya-devaṁ
śrī-rādhā-kṛṣṇa-pādān saha-gaṇa-lalitā-śrī-viśākhānvitāṁś . . .
(Maṅgalācaraṇa)
he kṛṣṇa karuṇā-sindho dīna-bandho jagat-pate
gopeśa gopikā-kānta rādhā-kānta namo 'stu . . .
(Śrī Kṛṣṇa Praṇāma)
tapta-kāñcana-gaurāṅgi
rādhe vṛndāvaneśvari
vṛṣabhānu-sute devi
praṇamāmi hari-priye
(Śrī Rādhā Praṇāma)
(problem with the microphone)
What is the problem? What is that? Right you can see here.
Devotee: It won't, it won't fit.
Prabhupāda: Then that is all, how it will go? . . . (indistinct conversation)
Devotee: Tamāla I think has got something.
Prabhupāda: What is that? . . . (indistinct) . . . now stop.
Devotee: Yeah. (pause) (end)