701209 - Letter to Tamala Krishna and Syamasundara written from Indore
From Vanisource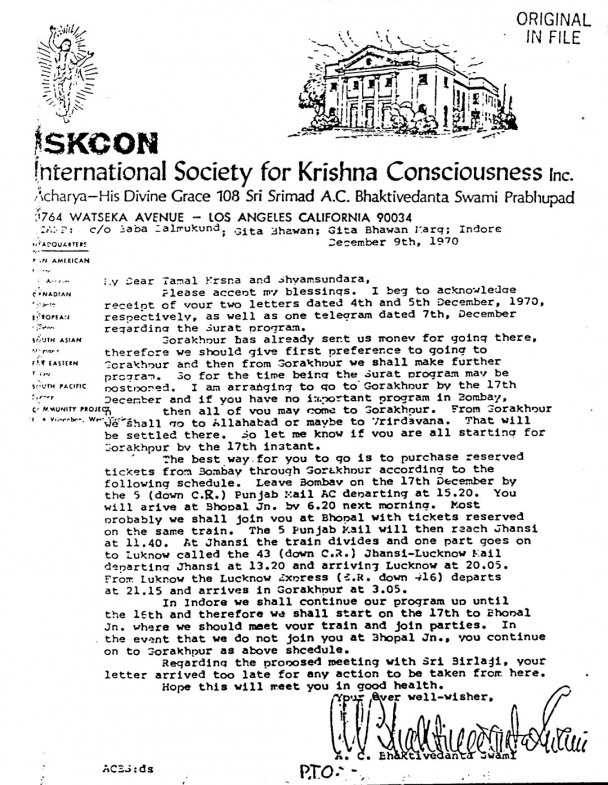 ISKCON
International Society for Krishna Consciousness Inc.
Acharya-His Divine Grace 108 Sri Srimad A.C.Bhaktivedanta Swami Prabhupad
3764 WATSEKA AVENUE - LOS ANGELES CALIFORNIA 90034
CAMP: c/o Baba Balmukund; Gita Bhawan; Bita Bhawan Marg, Indore
HEADQUARTERS
PAN AMERICAN
Boston
Los Angeles
CANADIAN
Toronto
EUROPEAN
London
SOUTH ASIAN
Mayapur
FAR EASTERN
Tokyo
SOUTPACIFIC
Sydney
COMMUNITY PROJECT
New Vrindaban, West Virginia
December 9th, 1970

My Dear Tamal Krsna and Shyamsundara,
Please accept my blessings. I beg to acknowledge receipt of your two letters dated 4th and 5th December, 1970, respectively, as well as one telegram dated 7th, December regarding the Surat program.
Gorakhpur has already sent us money for going there, therefore we should give first preference to going to Gorakhpur and them from Gorakhpur we shall make further program. So for the time being the Surat program may be postponed. I am arranging to go to Gorakhpur by the 17th December and if you have no important program in Bombay, then all of you may come to Gorakhpur. From Gorakhpur we shall go to Allahabad or maybe to Vrindavana. That will be settled there. So let me know if you are all starting for Gorakhpur by the 17th instant.
The best way for you to go is to purchase reserved tickets from Bombay through Gorakhpur according to the following schedule. Leave Bombay on the 17th December by the 5 (down C.R.) Punjab Mail AC departing at 15.20. You will arrive at Bhopal Jn. by 6.20 next morning. Most probably we shall join you at Bhopal with tickets reserved on the same train. The 5 Punjab Mail will then reach Jhansi at 11.40. At Jhansi the train divides and one part goes on to Luknow called the 43 (down C.R.) Jhansi-Lucknow Mail departing Jhansi at 13.20 and arriving Lucknow at 20.05. From Luknow the Lucknow Express (E.R. down #16) departs at 21.15 and arrives in Gorakhpur at 3.05.
In Indore we shall continue our program up until the 16th and therefore we shall start on the 17th to Bhopal Jn. where we should meet your train and join parties. In the event that we do not join you at Bhopal Jn., you continue on to Gorakhpur as above schedule.
Regarding the proposed meeting with Sri Birlaji, your letter arrived too late for any action to be taken from here.
Hope this will meet you in good health.
Your ever well-wisher,



A.C. Bhaktivedanta Swami
ACBS:ds
P.T.O.
I have advised Gurudasa to print the numbers of the receipts which were lost in Delhi in the public papers with a note that any monies collected with these receipts are not received by ISKCON, neither ISKCON is responsible for such false representation. Please send the numbers of the missing receipts immediately to Gurudasa so he can do the needful. Giriraja says that you now have the only copy of the missing numbers. So please send them without delay.
ACB