710111 - Letter to Rupanuga written from Calcutta
From Vanisource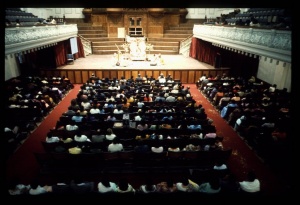 January 11, 1971

Buffalo
My Dear Rupanuga,
Please accept my blessings. I beg to acknowledge receipt of your letter dated 14th December, 1970. In the meantime we have come from Surat to Bombay and from Bombay to Calcutta and tomorrow morning we are going to Allahabad to attend the Adha Kumbh Mela festival. We shall be going all 40 strong devotees and there are an expected 7,000,000 going there also for the month of Magh. I expect that by this time you are touring Europe and especially overseeing London Temple, so I am expecting another letter from you soon reporting the situation there. Anyway, I shall address this to your Buffalo Temple.
I was glad to know from you that in your tour of the East coast temples everything is going on nicely. Please encourage our devotees to continue in their good efforts to spread this sublime Movement. The standard of purity must be kept intact along with firm faith in Spiritual Master and Krsna, then everything will go on smoothly. I have just received a letter from Bhavananda from New York and it appears that there are many persons regularly attending our classes and following the regulative principles as well as chanting Hare Krsna Mantra. That is the success of our preaching work when there is this result of more persons joining, so I am confident that things are going on.
Please increase the book distribution program as far as you can. The proposal to open a center in Trinidad with the help of Mr. Gajjar and others is very encouraging.
Hope this will meet you in good health.
Your ever well-wisher,
A.C. Bhaktivedanta Swami
P.S. I have received your London letter at Allahabad.
ACBS:ds