710211 - Letter to Danavir written from Gorakhpur
From Vanisource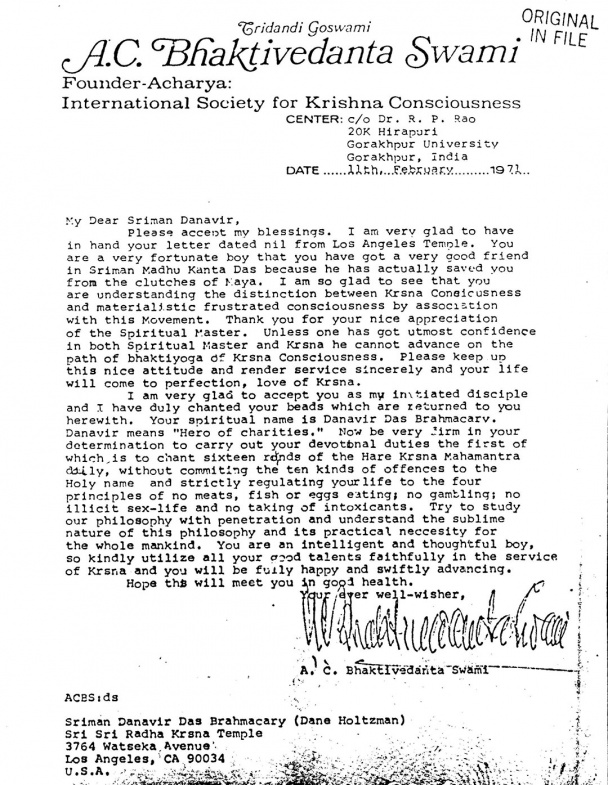 Tridandi Goswami
A.C. Bhaktivedanta Swami
Founder-Acharya:
International Society for Krishna Consciousness
CENTER: c/o Dr.Ravindra P.Rao;
              20K Hirapuri
              Gorakhpur University
              Gorakhpur, India
DATE ......11th,...February.......1971...


My Dear Sriman Danavir,
Please accept my blessings. I am very glad to have in hand your letter dated nil from Los Angeles Temple. You are a very fortunate boy that you have got a very good friend in Sriman Madhu Kanta Das because he has actually saved you from the clutches of Maya. I am so glad to see that you are understanding the distinction between Krsna Consciousness and materialistic frustrated consciousness by association with this Movement. Thank you for your nice appreciation of the Spiritual Master. Unless one has got utmost confidence in both Spiritual Master and Krsna he cannot advance on the path of bhaktiyoga of Krsna Consciousness. Please keep up this nice attitude and render service sincerely and your life will come to perfection, love of Krsna.
I am very glad to accept you as my initiated disciple and I have duly chanted your beads which are returned to you herewith. Your spiritual name is Danavir Das Brahmacary. Danavir means "Hero of charities." Now be very firm in your determination to carry out your devotional duties the first of which is to chant sixteen rounds of the Hare Krsna Mahamantra daily, without committing the ten kinds of offenses to the Holy name and strictly regulating your life to the four principles of no meats, fish or eggs eating; no gambling; no illicit sex-life and no taking of intoxicants. Try to study our philosophy with penetration and understand the sublime nature of this philosophy and its practical necessity for the whole mankind. You are an intelligent and thoughtful boy, so kindly utilize all your good talents faithfully in the service of Krsna and you will be fully happy and swiftly advancing.
Hope this will meet you in good health.
Your ever well-wisher,



A.C. Bhaktivedanta Swami

ACBS:ds
Sriman Danavir Das Brahmachary (Dane Holtzman)
Sri Sri Radha Krsna Temple
3764 Watseka Avenue
Los Angeles, CA 90034
U.S.A.