710223 - Letter to Jayapataka written from Gorakhpur
From Vanisource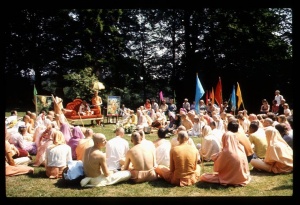 February 23, 1971

Calcutta
My Dear Jayapataka Maharaja,
Please accept my blessings. I beg to acknowledge receipt of your letter dated 17th February, 1971 and have noted the contents. You have asked for some men so immediately another batch of two men, Revatinandana and Durlabh Das Adhikari are going today carrying this letter. Durlabh Das has got camera films and machine and so he will be very good for your work there, and Revatinandana is very well known Sankirtana leader. Next on the 28th February, 1971 all of us are going to Calcutta, reaching on the 1st March by the 82 Down Express reaching Howrah at about 4:30 P.M. My desire is that all of you should visit Mayapur at least for one or two days during Lord Caitanya Mahaprabhu's birthday. If the Hamilton House is available, then I shall also go and finish the business of paying them in full as they want. When I shall go, I shall go with full, money for paying them, but in case the transaction does not mature, then I shall not go to Calcutta but go to Bombay and you all my disciples may visit Mayapur and chant Kirtana as many times as possible and return to Calcutta. Most probably Hamsaduta and his party will go to Calcutta by the 10th March.
So far as cooperating with my Godbrothers is concerned, that is not very urgent business. So far until now my Godbrothers have regularly not cooperated with me and by the grace of my Spiritual Master, things are still going ahead. So cooperation or non-cooperation, it is the desire of Bhaktivinode Thakura to preach the Caitanya cult all over the world and in 1875 he predicted that someone would come very soon who would individually preach this cult all over the world. So if his benediction is there and my Guru Maharaja's blessings are there, we can go ahead without any impediment but all of us must be very sincere and serious. We have been a little inflicted by public criticism that we Godbrothers do not work together. My Guru Maharaja wanted also us to work together but some how or other it hasn't happened up until now. So your program of cooperating with Madhava Maharaja is not so important. Best thing is that all we Godbrothers work together. Then the criticism will stop, otherwise even we join together, criticism will go on. So this has been going on for the last 24 years, but everyone of us is doing his best keeping Lord Caitanya in the center. We should be satisfied so much.
Regarding Hamilton House, they will take up the decision on the 26th February, 1971 as I understand from your letter. So immediately you will send me the decision by express telegram because on this decision it will depend my going to Calcutta or to Bombay. So kindly take this as very urgent and do the needful. I am very glad you have nice commodious quarters and you have got it free of charge. Thank Krishna.
I've sent my bank passbook to Balaji. Please get it up to date, so if I go to Calcutta, I shall see to it and if I go to Bombay you will send it registered post. In the meantime make the passbook up to date. If there is sufficient space for accommodation of 40 to 50 men, then all the devotees from Bombay will also go to Calcutta for visiting Mayapur, and if you have space then you can inform the Bombay devotees directly.
Hoping this will meet you in good health.
Your ever well-wisher,
A.C. Bhaktivedanta Swami
ACBS/adb