710324 - Letter to Satsvarupa written from Bombay
From Vanisource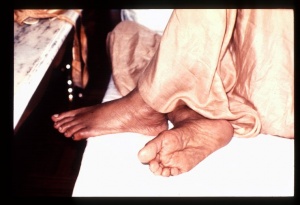 March 24, 1971

Boston
My Dear Satsvarupa,
Please accept my blessings. I beg to acknowledge receipt of your letter dated 12th February, 1971 and have noted the contents carefully. It is very encouraging news to hear that we have one new center in Amherst, Mass. amidst so many prominent colleges. So the devotees there should be very actively engaged in preaching at these schools and especially introducing our literatures, as well as teaching any classes, if that is possible. We have got so many centers. Now we should concentrate on developing the existing centers nicely rather than randomly opening new ones. If a temple has to close down it is a great discredit. So we should work in such a way that all our centers may prosper.
According to your letter, you should have received the new Deities by now. These big Dieties should be installed in a big throne and then the small Deities may be transferred to a smaller temple if you wish. I shall be going to _____ and if you want I shall go to Boston, also. Why not? In the meantime you can have several sets of very nice dresses prepared, ornaments, etc. and keep them ready.
So far as Citsukhananda going to replace Brahmananda Maharaja (whose last report was from London, where he is raising funds for going to Karachi), I have just received one letter from him dated 3rd March, 1971 saying that he is in L.A. making final arrangements for opening Mexico City branch. So who shall go to Tallahassee?
Please offer my blessings to the others. Hoping this will meet you in good health.
Your ever well-wisher,
A.C. Bhaktivedanta Swami
ACBS/adb