710326 - Letter to Bank of Baroda written from Bombay
From Vanisource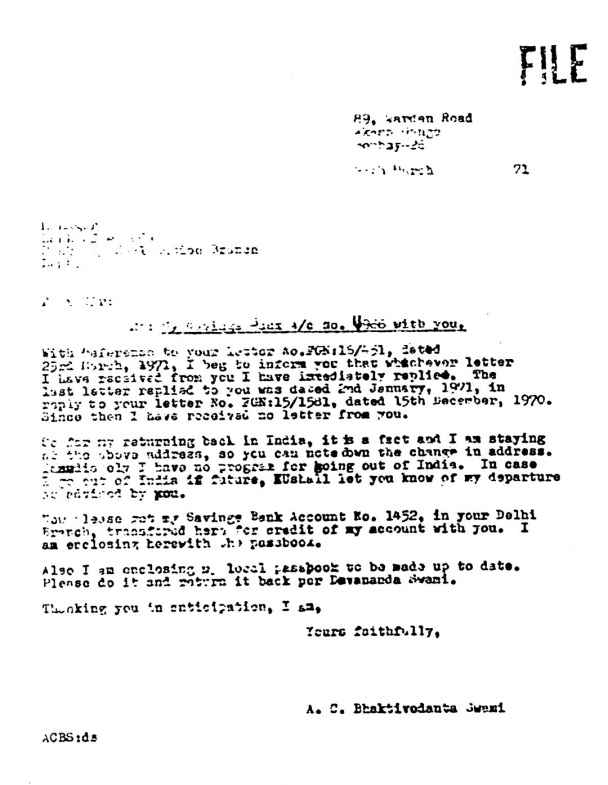 89, Warden Road
[unclear]
Bombay-26
26th March             71


Bank of Baroda
[unclear] Bombay

Dear Sir:
Re: My Savings Bank A/c no. 4966 with you,
With reference to your letter No. FGN:16/451, dated 23rd March, 1971, I beg to inform you that whichever letter I have received from you I have immediately replied. The last letter replied to you was dated 2nd January, 1971, in reply to your letter No. FGN:15/1581, dated 15th December, 1970. Since then I have received no letter from you.
So far my returning back in India, it is a fact and I am staying at the above address, so you can note down the change in address. Immediately [unclear] I have no program for going out of India. In case I go out of India in future, I shall let you know of my departure as advised by you.
Now please get my Savings Bank Account No. 1452, in your Delhi Branch, transferred here for credit of my account with you. I am enclosing herewith the passbook.
Also I am enclosing my local passbook to be made up to date. Please do it and return it back per Devananda Swami.
Thank you in anticipation, I am,
Yours faithfully,


A.C. Bhaktivedanta Swami

ACBS:ds