710427 - Letter to Gurudasa written from Bombay
From Vanisource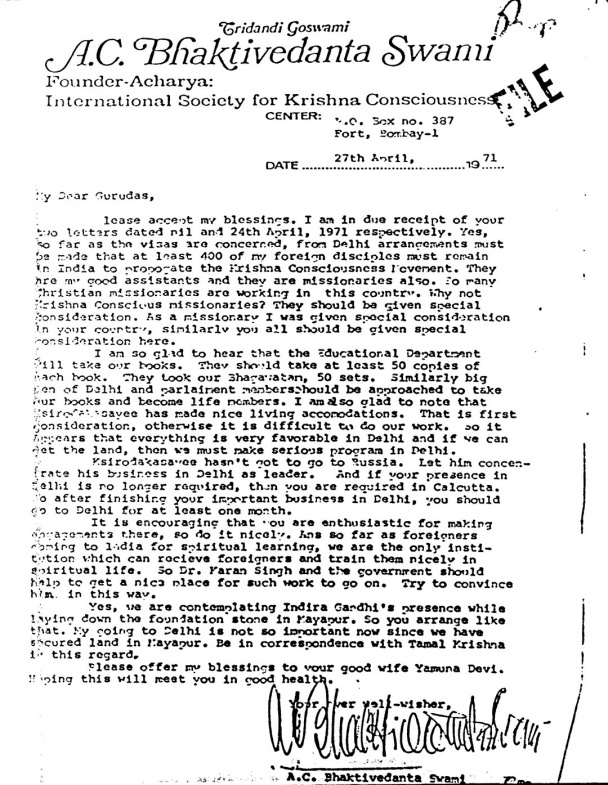 Tridandi Goswami
A.C. Bhaktivedanta Swami
Founder-Acharya:
International Society for Krishna Consciousness
CENTER:  P.O.Box 387
               Fort, Bombay-1
DATE ........27th.April,..........19.71..

My Dear Gurudas,
Please accept my blessings. I am in due receipt of your two letters dated nil and 24th April, 1971 respectively. Yes, so far as the visas are concerned, from Delhi arrangements must be made that at least 400 of my foreign disciples must remain in India to propagate the Krishna Consciousness Movement. They are my good assistants and they are missionaries also. So many Christian missionaries are working in this country. Why not Krishna Conscious missionaries? They should be given special consideration. As a missionary I was given special consideration in your country, similarly you all should be given special consideration here.
I am so glad to hear that the Educational Department will take our books. They should take at least 50 copies of each book. They took our Bhagawatam, 50 sets. Similarly big men of Delhi and parliament members should be approached to take our books and become life members. I am also glad to note that Ksirodakasayee has made nice living accommodations. That is first consideration, otherwise it is difficult to do our work. So it appears that everything is very favorable in Delhi and if we can get the land, then we must make serious program in Delhi.
Ksirodakasayee hasn't got to go to Russia. Let him concentrate his business in Delhi as leader. And if your presence in Delhi is no longer required, then you are required in Calcutta. So after finishing your important business in Delhi, you should go to Delhi for at least one month.
It is encouraging that you are enthusiastic for making engagements there, so do it nicely. And so far as foreigners coming to India for spiritual learning, we are the only institution which can receive foreigners and train them nicely in spiritual life. So Dr. Karan Singh and the government should help to get a nice place for such work to go on. Try to convince him in this way.
Yes, we are contemplating Indira Gandhi's presence while laying down the foundation stone in Mayapur. So you arrange like that. My going to Delhi is not so important now since we have secured land in Mayapur. Be in correspondence with Tamal Krishna in this regard.
Please offer my blessings to your good wife Yamuna Devi. Hoping this will meet you in good health.