710612 - Letter to Satsvarupa written from Bombay
From Vanisource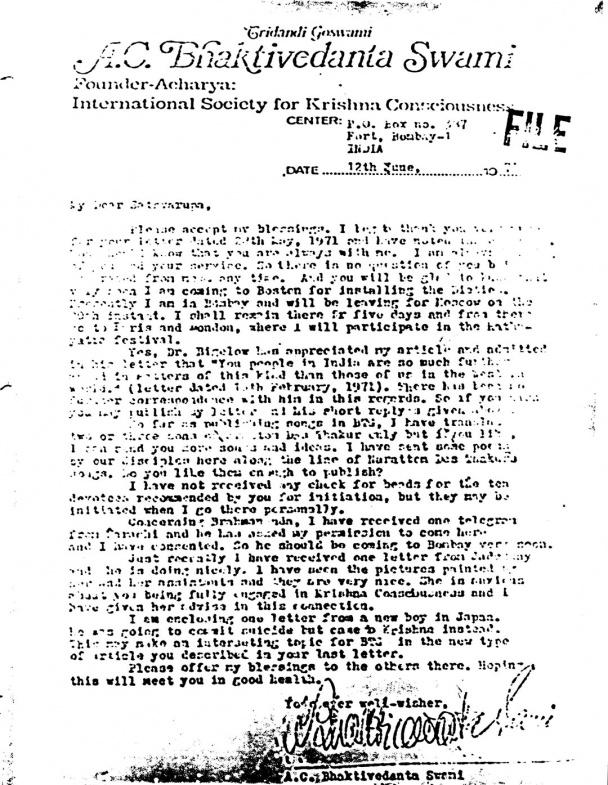 Tridandi Goswami
A.C. Bhaktivedanta Swami
Founder-Acharya:
International Society for Krishna Consciousness
CENTER: P.O. Box no. 387
              Fort, Bombay-1
              INDIA
DATE .......12th..June,..............19..71.

My Dear Satsvarupa,
Please accept my blessings. I beg to thank you very much for your letter dated 28th May, 1971 and have noted the contents. You should know that you are always with me. I am always thinking of you and your service. So there is no question of you being separated from me at any time. And you will be glad to know that very soon I am coming to Boston for installing the Deities. Recently I am in Bombay and will be leaving for Moscow on the 20th instant. I shall remain there for five days and from there go Paris and London, where I will participate in the Rathayatra festival.
Yes, Dr. Bigelow has appreciated my article and admitted in his letter that "You people in India are so much further ahead in matters of this kind then those of us in the Western world." (letter dated 16th February, 1971) There has been no further correspondence with him in this regards. So if you wish you may publish my letter and his short reply is given above.
So far as publishing songs in BTG, I have translated two or three songs of Narottama Dasa Thakur only but if you like, I can send you more songs and ideas. I have sent some poems by our disciples here along the line of Narattom Das Thakur's songs. Do you like them enough to publish?
I have not received any check for beads for the ten devotees recommended by you for initiation, but they may be initiated when I go there personally.
Concerning Brahmananda, I have received one telegram from Karachi and he has asked my permission to come here and I have consented. So he should be coming to Bombay very soon.
Just recently I have received one letter from Jadurani and she is doing nicely. I have seen the pictures printed by her and her assistants and they are very nice. She is serious about you being fully engaged in Krishna Consciousness and I have given her advice in this connection.
I am enclosing one letter from a new boy in Japan. He was going to commit suicide but came to Krishna instead. This may make an interesting topic for BTG in the new type of article you described in your last letter.
Please offer my blessings to the others there. Hoping this will meet you in good health.
Your ever well-wisher,


A.C. Bhaktivedanta Swami