710621 - Letter to Prabhupada Lalita Prasad Thakur written from Moscow
From Vanisource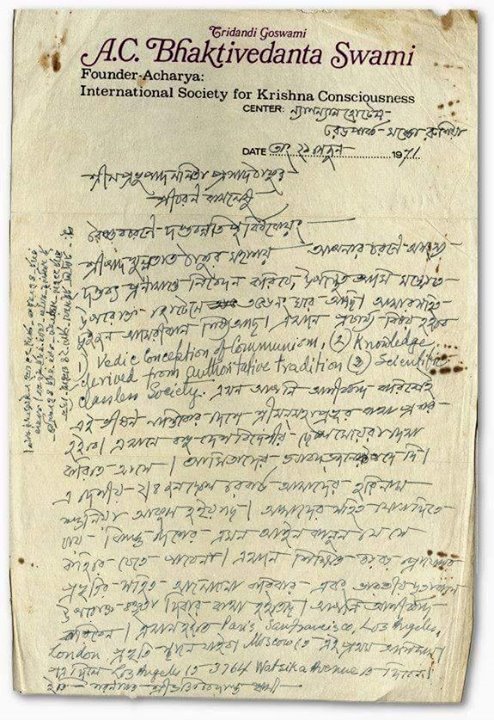 Tridandi Goswami
A.C. Bhaktivedanta Swami
Founder-Acharya:
International Society for Krishna Consciousness
CENTER:  National Hotel,
    Red park, Moscow, Russia

DATE ......21st.June,..1971...
My dear uncle Prabhupada Lalita Prasad Thakur,
Kindly accept my humble obeisance to your lotus feet. At present I am staying at the above mentioned hotel in Moscow, Room No. 356. With me there are two American disciples.
Here the preaching subject will be 1. Vedic Conception of Communism, 2. Knowledge derived from authoritative tradition, 3. Scientific classless society. Now with your blessing in this severely atheistic country the teachings of Sriman Mahaprabhu will be preached. Here many local and foreigner girls and boys have visited. I advise them to do the Bhajana of the Lord. A few boys of this place have become very much impressed after listening to our Harinama. They want to join us. But the laws of this country are so tough that they cannot go against them. Here discussions are going on to meet many reputable professors and there will be the arrangement of lecture in the Indian Embassy. You bless me. From here I will go to Paris, San Francisco, Los Angeles, London etc. This is the first time I came to Moscow. If you want to write to me, send it to this address—3764 Watseka Avenue.


Yours affectionately, Sri Bhaktivedanta Swami
(from Bhaktivedanta Research Centre's Birnagar Collection)