710629 - Letter to Madhudvisa written from Los Angeles
From Vanisource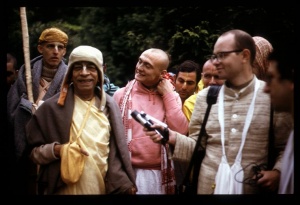 June 29, 1971

My Dear Madhudvisa Maharaja,
Please accept my blessings. You will be glad to know that we arrived safely in Moscow and stayed there for five days. There are many younger Muscovites who are very much anxious to join our movement. Unfortunately the government is so strict that it is difficult to take their cooperation for starting a center there. Everything is strictly under government control. Still we are trying to open a center with the help of local men. The city is very big and there are many nice buildings, roads, etc. but life is not very happy. One cannot live according to his own choice. Fruits and vegetables are very scantily supplied. Milk, butter and yogurts are amply available, though.
From Moscow, I went to Paris. Paris is a very nice city, better than London. All historical buildings are there and they are very gorgeous and panoramic. So we have got a very nice center there. The address is as follows: 26 Rue Etienne d'Orves; Fontenay aux Roses; Paris 92. I stayed only one day on my way to L.A. but still they arranged some nice meeting and a press conference and the people were favorably impressed. They admitted in different papers that our movement is genuine along with other information.
From Paris I went directly to L.A., about 6,000 miles at one stretch and I was on the plane for 12 hours, therefore getting a one day concession. From L.A. I went to San Francisco yesterday and the Rathayatra festival was very very gorgeously performed. There were three Rathas consecutively and Lord Jagannatha's Ratha was bigger than the other two. People received us so nicely and one mayor was the chief guest in the meeting in which more than 10,000 people assembled and the mayor spoke very highly of our movement. She is very much impressed with the basic principle of our Back to Godhead movement. In this way we are getting support gradually in the U.S.A. Maybe our movement will be supported in the future by the United Nations. So we Krishna Consciousness people have accepted a very important and responsible task in the whole world, therefore, our principal work also must be very responsible.
I am very much anxious to know what is happening about the houses. To tell you the truth, I am willing to purchase the Little Gibb's road house of Mr. Vakil. The terms offered lately are as follows: 1) $80,000 American by three yearly installments; first (down payment) at $25,000; $25,000. and $30,000 respectively. The total price should be not more than 16 lacs. Out of this, 10 lacs plus 40,000 will cover the payment in dollar money. The balance 5 lacs plus 50,000 would be paid as follows: Down payment of 1 lac, 60,000 or 70,000 and the balance money at Rs 10,000/- per month. The tenant on the upper story will be Mr. Vakils responsibility. The procedure should be like this: As soon as the sales agreement is done, we pay the down payment of 1 lac, 60 or 70,000 and he gives us possession of the ground floor. Immediately after taking possession of the ground floor, we pay a check of $25,000. for immediate encashment. Then he clears out the upper story tenant and we go on paying him Rs 10,000 per month, and dollars payment as arranged. So if possible, do the needful with the help of Mr. Chabria and try to secure that house and reply this letter to our London address.
Please offer my blessings to the others. Hoping this will meet you in good health.
Your ever well-wisher,
A.C. Bhaktivedanta Swami