710703 - Letter to Jayadvaita written from Los Angeles
From Vanisource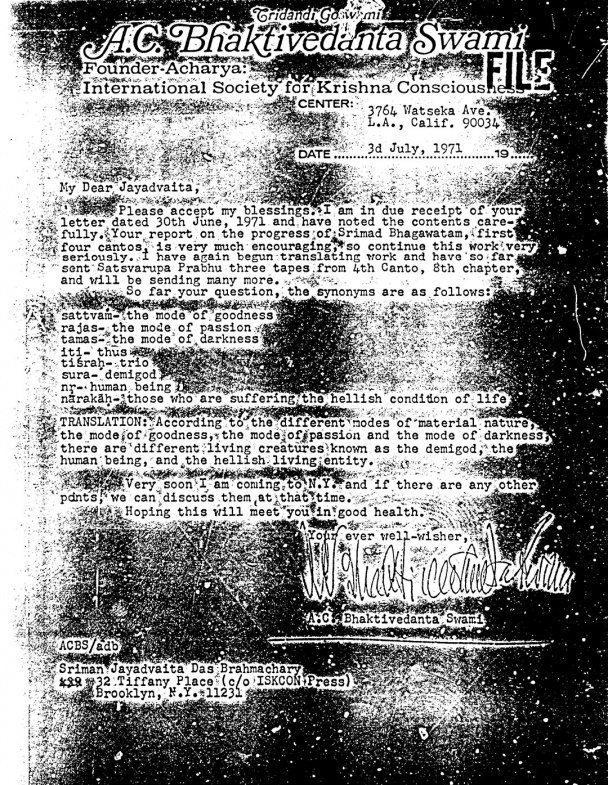 Tridandi Goswami
A.C. Bhaktivedanta Swami
Founder-Acharya:
International Society for Krishna Consciousness
CENTER:     3764 Watseka Avenue
                  Los Angeles, Calif. 90034

DATE ........3rd..July,...1971........19.....


My Dear Jayadvaita,
Please accept my blessings. I am in due receipt of your letter dated 30th June, 1971 and have noted the contents carefully. Your report on the progress of Srimad Bhagawatam, first four cantos, is very much encouraging, so continue this work very seriously. I have again begun translating work and have so far sent Satsvarupa Prabhu three tapes from 4th Canto, 8th chapter, and will be sending many more.
So far your question, the synonyms are as follows:
sattvaṁ- the mode of goodness
rajas- the mode of passion
tamas- the mode of darkness
iti- thus
tisraḥ- trio
sura- demigod
nṛ- human being
nảrakẚḥ- those who are suffering the hellish condition of life
TRANSLATION: According to the different modes of material nature, the mode of goodness, the mode of passion and the mode of darkness, there are different living creatures known as the demigod, the human being, and the hellish living entity.
Very soon I am coming to N.Y. and if there are any other points, we can discuss them at that time.
Hoping this will meet you in good health.
Your ever well-wisher,



A.C. Bhaktivedanta Swami

ACBS/adb
Sriman Jayadvaita Das Brahmachary
32 Tiffany Place (c/o ISKCON Press)
Brooklyn, N.Y. 11231