710713 - Letter to Gurudasa written from Los Angeles
From Vanisource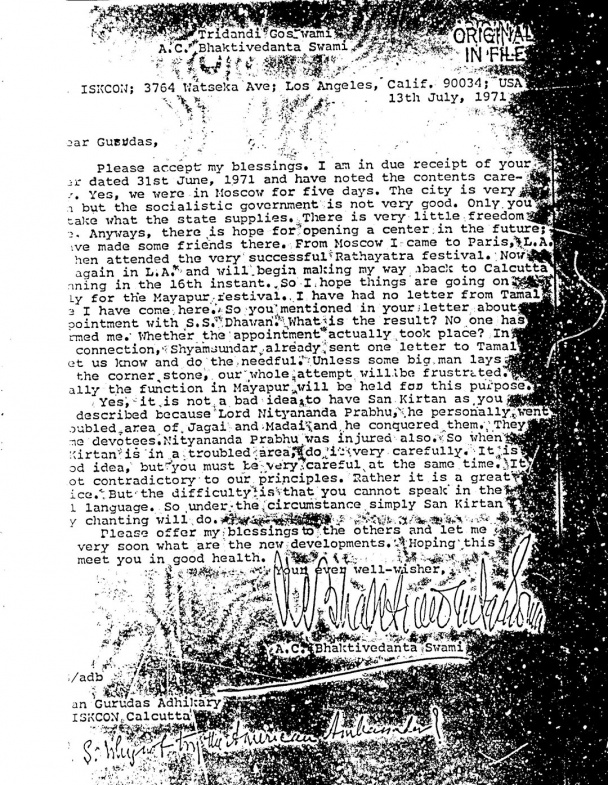 Tridandi Goswami<br< A.C. BHAKTIVEDANTA SWAMI
Founder Acharya:
International Society For Krishna Consciousness Inc.
3764 Watseka Avenue
Los Angeles, Calif. 90034 U.S.A
July 13th 1971
My Dear Gurudas,
Please accept my blessings. I am in due receipt of your letter dated 31st June, 1971 and have noted the contents carefully. Yes, we were in Moscow for five days. The city is very clean but the socialistic government is not very good. Only you can take what the state supplies. There is very little freedom there. Anyway, there is hope for opening a center in the future; we have made some friends there. From Moscow I came to Paris, L.A. and then attended the very successful Rathayatra festival. Now I am again in L.A. and will begin making my way back to Calcutta beginning in the 16th instant. So I hope things are going on nicely for the Mayapur festival. I have had no letter from Tamal since I have come here. So you mentioned in your letter about an appointment with S. S. Dhawan. What is the result? No one has informed me. Whether the appointment actually took place? In this connection, Shyamasundar already sent one letter to Tamal to let us know and do the needful. Unless some big man lays down the corner stone, our whole attempt will be frustrated. Actually the function in Mayapur will be held for this purpose.
Yes, it is not a bad idea to have Sankirtan as you have described because Lord Nityananda Prabhu, he personally went to troubled area of Jagai and Madhai and he conquered them. They became devotees. Nityananda Prabhu was injured also. So when Sankirtan is in a troubled area, do it very carefully. It is a good idea, but you must be very careful at the same time. It is not contradictory to our principles. Rather it is a great service. But the difficulty is that you cannot speak in the local language. So under the circumstances simply Sankirtan party chanting will do.
Please offer my blessings to the others and let me know very soon what are the new developments. Hoping this will meet you in good health.
Your ever well-wisher,
[signed]
A.C. Bhaktivedanta Swami
P.S. Why not try the American Ambassador?[handwritten]
ACBS/adb
Sriman Gurudas Adhikary
ISKCON Calcutta