710811 - Letter to Hayagriva written from London
From Vanisource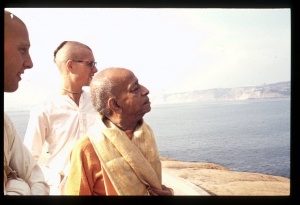 August 11, 1971

Sriman Hayagriva Das Adhikary
c/o New Vrindaban
7, Bury Place, London, W.C.1; ENGLAND

My Dear Hayagriva,
Please accept my blessings. I am in due receipt of your letter dated 29th July, 1971 and have noted the contents carefully. You write to say that it is my satisfaction that is important; my wish is that you all GBC members cooperate and advance the mission of this society. That will satisfy me. I am now sick for the last three days; perhaps this climate is not suiting me, so very soon I will be returning to N.Y. or Bombay. I am just waiting for a reply from the High Commissioner of India in London whom I have induced to write Indira Gandhi to participate in our corner stone ceremony at Mayapur.
I think your complete engagement should be editing. Bhagavad Gita has been detained for the last several years. Still it is not complete. With such slow progress how can we finish? There are still so many books to be written and printed.
You can try and write one article about the transmigration of the soul. Many rascals do not believe in the soul. If there is no soul, then why a dead child does not grow? If it is only matter, then matter is already there. Transmigration takes place by the subtle body. When the gross body becomes useless, the subtle body carries the soul to develop another gross body. This is a great scientific point, but rascal scientist and philosophers have no conception. So try and convince them with logic and good argument. The best thing is that when I return to Mayapur at that time you can come and live with me. It is a very peaceful place. So far my going to New Vrindaban that is a nice place but circumstantially I cannot live there. So when I return to India you may come and join me. And I would have liked to have gone to New Vrindaban for Janmastami but I have fallen sick. Practically my health does not permit me to take up any active management or administration. I should now retire and GBC should kindly give me relief in this connection. Now our organization is expanding. We must have good GBC management.
Hoping this will meet you in good health,
Your ever well-wisher,
A.C. Bhaktivedanta Swami
ACBS/adb
cc: Rupanuga (N.Y.)
P.S. If Shyama Dasi is competent to manage she should be made President, Ranadhir as Treasurer & Satyabhama or her husband as secretary. ACB