710924 - Letter to Gaura Hari written from Nairobi
From Vanisource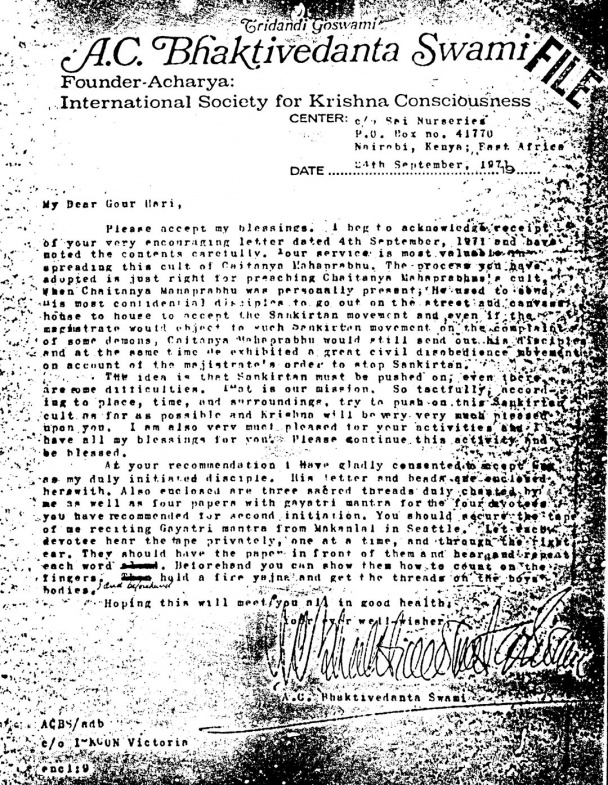 Tridandi Goswami
A.C. Bhaktivedanta Swami
Founder-Acharya:
International Society for Krishna Consciousness
CENTER: c/o Sri Nurseries
              P.O.Box no. 41770
              Nairobi, Kenya; East Africa
DATE .......24th..September,...1971..19.....

My Dear Gour Hari,
Please accept my blessings. I beg to acknowledge receipt of your very encouraging letter dated 4th September, 1971 and have noted the contents carefully. Your service is most valuable in spreading this cult of Caitanya Mahaprabhu. The process you have adopted is just right for preaching Chaitanya Mahaprabhu's cult. When Chaitanya Mahaprabhu was personally present, He used to send His most confidential disciples to go out on the street and canvass house to house to accept the Sankirtan movement and even if the magistrate would object to such Sankirtan movement on the complaint of some demons, Caitanya Mahaprabhu would still send out his disciples and at the same time He exhibited a great civil disobedience movement on account of the magistrate's order to stop Sankirtan.
The idea is that Sankirtan must be pushed on, even there are some difficulties. That is our mission. So tactfully, according to place, time, and surroundings, try to push on this Sankirtan cult as far as possible and Krishna will be very very much pleased upon you. I am also very much pleased for your activities and I have all my blessings for you. Please continue this activity and be blessed.
At your recommendation I have gladly consented to accept G[unclear] as my duly initiated disciple. His letter and beads are enclosed herewith. Also enclosed are three sacred threads duly chanted by me as well as four papers with Gayatri mantra for the four devotees you have recommended for second initiation. You should secure the tape of me reciting Gayatri mantra from Makanlal in Seattle. Let each devotee hear the tape privately, one at a time, and through the right ear. They should have the paper in front of them and hear and repeat each word. Beforehand you can show them how to count on the fingers, and beforehand [handwritten] hold a fire yajna and get the threads on the boys' bodies.
Hoping this will meet you all in good health.
Your ever well-wisher,



A.C. Bhaktivedanta Swami

ACBS/adb
c/o ISKCON Victoria
encl:9