710927 - Letter to Danavir written from Nairobi
From Vanisource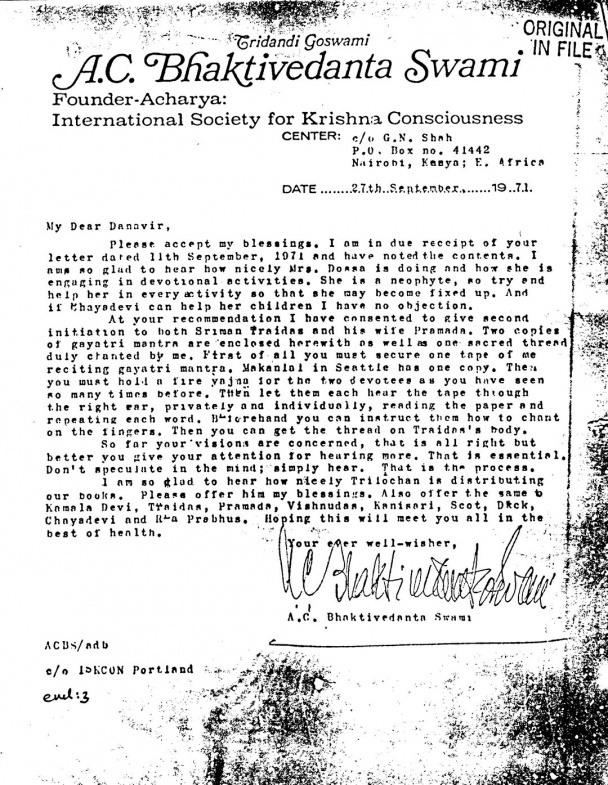 Tridandi Goswami
A.C. Bhaktivedanta Swami
Founder-Acharya:
International Society for Krishna Consciousness
CENTER:   c/o G.N. Shah
                P.O.Box no. 41442
                Nairobi, Kenya; E. Africa
DATE .....27th..September,.....19..71.

My Dear Danavir,
Please accept my blessings. I am in due receipt of your letter dated 11th September, 1971 and have noted the contents. I am so glad to hear how nicely Mrs. Dossa is doing and how she is engaging in devotional activities. She is a neophyte, so try and help her in every activity so that she may become fixed up. And if Chayadevi can help her children I have no objection.
At your recommendation I have consented to give second initiation to both Sriman Traidas and his wife Pramada. Two copies of Gayatri mantra are enclosed herewith as well as one sacred thread duly chanted by me. First of all you must secure one tape of me reciting Gayatri mantra. Makhanlal in Seattle has one copy. Then you must hold a fire yajna for the two devotees as you have seen so many times before. Then let them each hear the tape through the right ear, privately and individually, reading the paper and repeating each word. Beforehand you can instruct them how to chant on the fingers. Then you can get the thread on Traidas's body.
So far your visions are concerned, that is all right but better you give your attention for hearing more. That is essential. Don't speculate in the mind; simply hear. That is the process.
I am so glad to hear how nicely Trilochan is distributing our books. Please offer him my blessings. Also offer the same to Kamala Devi, Traidas, Pramada, Vishnudas, Kanisari, Scot, Dick, Chayadevi and Ray Prabhus. Hoping this will meet you all in the best of health.
Your ever well-wisher,



A.C. Bhaktivedanta Swami

ACBS/adb
c/o ISKCON Portland
encl: 3 [handwritten]