711014 - Letter to Vasudeva written from Nairobi
From Vanisource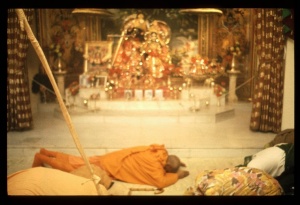 October 14, 1971

Paris
My Dear Vasudeva,
Please accept my blessings. I have heard a serious complaint against you that you are in intimate relation with Aradhana's wife Santanu. I am not only surprised but I cannot believe that a nice boy like you should be thus accused. Anyway young boys and girls sometimes commit mistakes due to age but we should remember that we are considered to be the most responsible persons in the society. Rejection of illicit sex life is our first motto. So I request you to stop immediately all this nonsense and remain fixed up in your good character. I have got very much appreciation of your abilities and I hope you will do the needful so that there may not be any more accusation against your good character. Any god-brother's wife or any unmarried girl in our society should be always treated as mother and sister. Any married woman should be treated as mother.
So we require many pictures of the acaryas so please engage yourself in painting more seriously than to divert your attention in any other matter. Please reply this letter to my Bombay address and let me know what you have done.
Hoping this will meet you in good health.
Your ever well-wisher,
A.C. Bhaktivedanta Swami