711127 - Letter to Abhirama written from Vrndavana
From Vanisource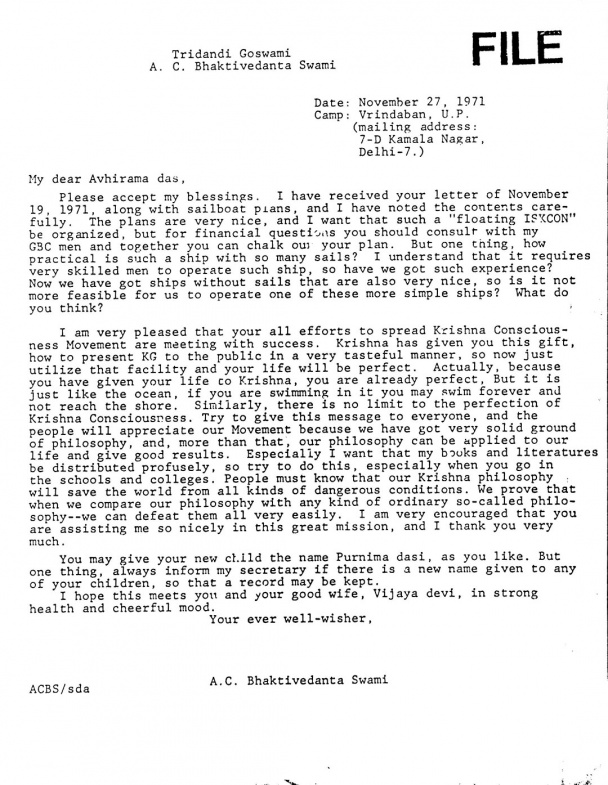 Tridandi Goswami
A.C. Bhaktivedanta Swami

Date: November 27, 1971
Camp: Vrindaban, U.P.
         (mailing adress:
          7-D Kamala Nagar
          Delhi-7.)

My Dear Avhirama das,
Please accept my blessings. I have received your letter of November 19, 1971, along with sailboat plans, and I have noted the contents carefully. The plans are very nice, and I want that such a "floating ISKCON" be organized, but for financial questions you should consult with my GBC men and together you can chalk out your plan. But one thing, how practical is such a ship with so many sails? I understand that it requires very skilled men to operate such ship, so have we got such experience? Now we have got ships without sails that are also very nice, so is it not more feasible for us to operate one of these more simple ships? What do you think?
I am very pleased that your all efforts to spread Krishna Consciousness Movement are meeting with success. Krishna has given you this gift, how to present KC to the public in a very tasteful manner, so now just utilize that facility and your life will be perfect. Actually, because you have given your life to Krishna, you are already perfect. But it is just like the ocean, if you are swimming in it you may swim forever and not reach the shore. Similarly, there is no limit to the perfection of Krishna Consciousness. Try to give this message to everyone, and the people will appreciate our Movement because we have got very solid ground of philosophy, and, more than that, our philosophy can be applied to our life and give good results. Especially I want that my books and literatures be distributed profusely, so try to do this, especially when you go in the schools and colleges. People must know that our Krishna philosophy will save the world from all kinds of dangerous conditions. We prove that when we compare our philosophy with any kind of ordinary so-called philosophy--we can defeat them all very easily. I am very encouraged that you are assisting me so nicely in this great mission, and I thank you very much.
You may give your new child the name Purnima dasi, as you like. But one thing, always inform my secretary if there is a new name given to any of your children, so that a record may be kept.
I hope this meets you and your good wife, Vijaya devi, in strong health and cheerful mood.
Your ever well-wisher,


A.C. Bhaktivedanta Swami
ACBS/sda