711130 - Letter to Krishna dasa written from Vrndavana
From Vanisource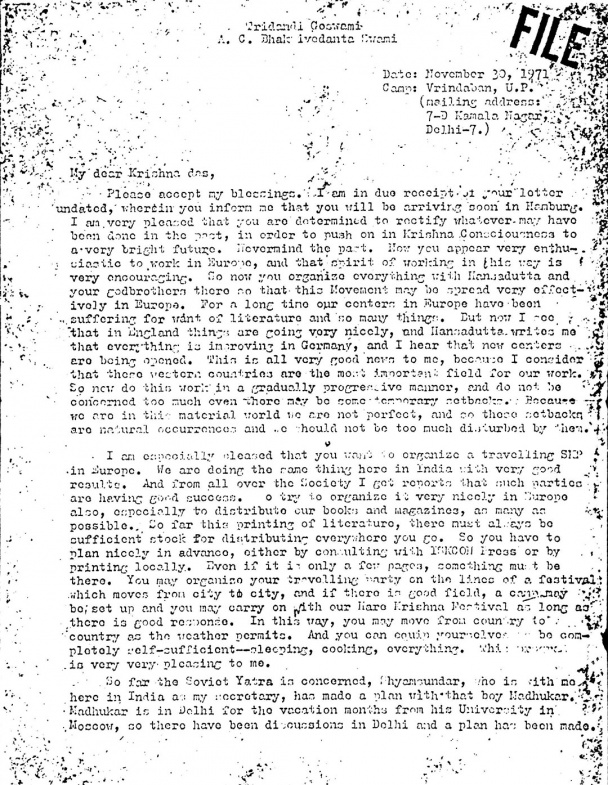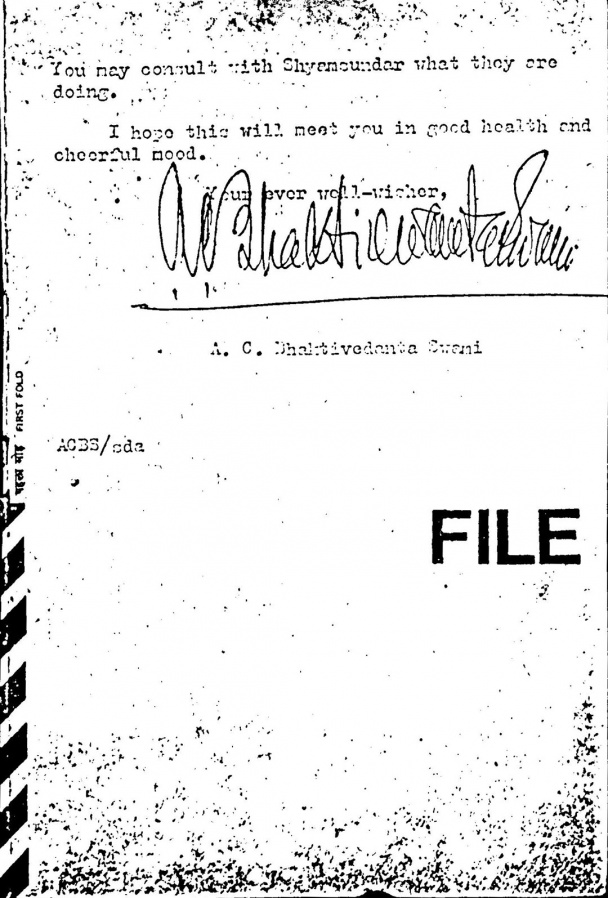 Tridandi Goswami
A.C. Bhaktivedanta Swami

Date: November 30, 1971
Camp: Vrindaban, U.P.
       (mailing adress:
        7-D Kamala Nagar
        Delhi-7.)


My Dear Krishna das,
Please accept my blessings. I am in due receipt of your letter undated, wherein you inform me that you will be arriving soon in Hamburg. I am very pleased that you are determined to rectify whatever may have been done in the past, in order to push on in Krishna Consciousness to a very bright future. Never mind the past. Now you appear very enthusiastic to work in Europe, and that spirit of working in this way is very encouraging. So now you organize everything with Hansadutta and your godbrothers there so that this Movement may be spread very effectively in Europe. For a long time our centers in Europe have been suffering for want of literature and so many things. But now I see that in England things are going very nicely, and Hansadutta writes me that everything is improving in Germany, and I hear that new centers are being opened. This is all very good news to me, because I consider that these western countries are the most important field for our work. So now do this work in a gradually progressive manner, and do not be concerned too much even there may be some temporary setbacks. Because we are in this material world we are not perfect, and so these setbacks are natural occurrences and we should not be too much disturbed by them.
I am especially pleased that you want to organize a travelling SKP in Europe. We are doing the same thing here in India with very good results. And from all over the Society I get reports that such parties are having good success. So try to organize it very nicely in Europe also, especially to distribute our books and magazines, as many as possible. So far this printing of literature, there must always be sufficient stock for distributing everywhere you go. So you have to plan nicely in advance, either by consulting with ISKCON Press or by printing locally. Even if it is only a few pages, something must be there. You may organize your travelling party on the lines of a festival which moves from city to city, and if there is good field, a camp may be set up and you may carry on with our Hare Krishna Festival as long as there is good response. In this way, you may move from country to country as the weather permits. And you can equip yourselves to be completely self-sufficient--sleeping, cooking, everything. This program is very very pleasing to me.
So far the Soviet Yatra is concerned, Shyamsundar, who is with me here in India as my secretary, has made a plan with that boy Madhukar. Madhukar is in Delhi for the vacation months from his University in Moscow, so there have been discussions in Delhi and a plan has been made. You may consult with Shyamsundar what they are doing.

I hope this will meet you in good health and cheerful mood.

A.C. Bhaktivedanta Swami


ACBS/sda