711230 - Letter to Ksirodakasayi written from Bombay
From Vanisource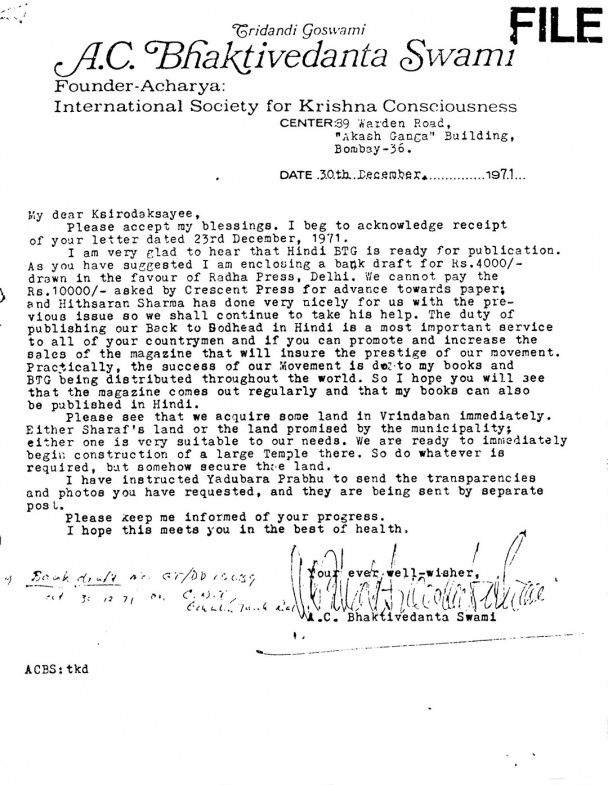 Tridandi Goswami
A.C. Bhaktivedanta Swami
Founder-Acharya:
International Society for Krishna Consciousness
CENTER:89,Warden Road.
             "Akash-Ganga" Building,
             Bombay-36.
DATE .30th..December,...........197.1...


My Dear Ksirodaksayee,
Please accept my blessings. I beg to acknowledge receipt of your letter dated 23rd December, 1971.
I am very glad to hear that Hindi BTG is ready for publication. As you have suggested I am enclosing a bank draft for Rs. 4000/- drawn in the favor of Radha Press, Delhi. We cannot pay the Rs. 1000/- asked by Crescent Press for advance towards paper; and Hithsaran Sharma has done very nicely for us with the previous issue so we shall continue to take his help. The duty of publishing our Back to Godhead in Hindi is a most important service to all of your countrymen and if you can promote and increase the sales of the magazine that will insure the prestige of our movement. Practically, the success of our Movement is due to my books and BTG being distributed throughout the world. So I hope you will see that the magazine comes out regularly and that my books can also be published in Hindi.
Please see that we acquire some land in Vrindaban immediately. Either Sharaf's land or the land promised by the municipality; either one is very suitable to our needs. We are ready to immediately begin construction of a large Temple there. So do whatever is required, but somehow secure the land.
I have instructed Yadubara Prabhu to send the transparencies and photos you have requested, and they are being sent by separate post.
Please keep me informed of your progress.
I hope this meets you in the best of health.

[unclear] [handwritten]