720104 - Letter to Vamanadeva and Indira written from Bombay
From Vanisource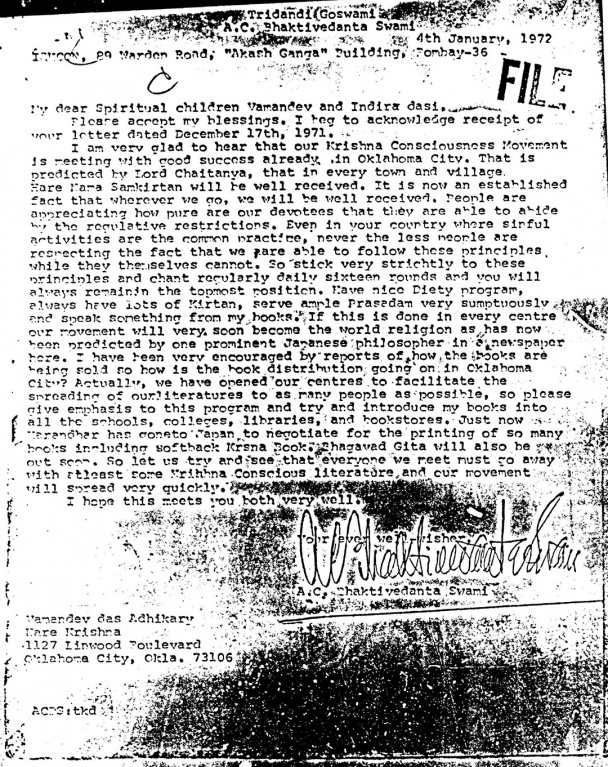 Tridandi Goswami
A.C. Bhaktivedanta Swami
4th January, 1972
ISKCON, 89 Warden Road, "Akash-Ganga" Building, Bombay-36

My dear Spiritual children Vamandev and Indira dasi,
Please accept my blessings. I beg to acknowledge receipt of your letter dated December 17th, 1971.
I am very glad to hear that our Krishna Consciousness Movement is meeting with good success already in Oklahoma City. That is predicted by Lord Chaitanya, that in every town and village Hare Nama Samkirtan will be well received. It is now an established fact that wherever we go, we will be well received. People are appreciating how pure are our devotees that they are able to abide by the regulative restrictions. Even in your country where sinful activities are the common practice, never the less people are respecting the fact that we are able to follow these principles, while they themselves cannot. So stick very strictly to these principles and chant regularly daily sixteen rounds and you will always remain in the topmost position. Have nice Deity program, always have lots of Kirtan, serve ample Prasadam very sumptuously and speak something from my books. If this is done in every center our movement will very soon become the world religion as has now been predicted by one prominent Japanese philosopher in a newspaper here. I have been very encouraged by reports of how the books are being sold so how is the book distribution going on in Oklahoma City? Actually, we have opened our centers to facilitate the spreading of our literatures to as many people as possible, so please give emphasis to this program and try and introduce my books into all the schools, colleges, libraries, and bookstores. Just now Karandhar has gone to Japan to negotiate for the printing of so many books including softback Krsna Book. Bhagavad Gita will also be out soon. So let us try and see that everyone we meet must go away with at least some Krishna Conscious literature and our movement will spread very quickly.
I hope this meets you both very well.

Your ever well-wisher,



A.C. Bhaktivedanta Swami

Vamandev das Adhikary
Hare Krishna
1127 Linwood Boulevard
Oklahoma City, Okla. 73106

ACBS:tkd