720129 - Letter to Bhavananda written from Nairobi
From Vanisource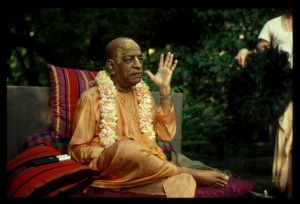 January 29, 1972

Calcutta
My Dear Bhavananda:
Please accept my blessings. I beg to acknowledge receipt of your letter dated January 24, 1972 and have noted the contents carefully. Things here are going on very nicely. Enclosed is one clipping. Last night at the festival meeting one government official spoke very highly of my movement and everyone was very pleased.
Now I am here in Africa and will be returning within a week. From Bombay I shall let you know what is to be done after consulting Tamal Krishna Goswami Maharaj and Shyamasundar, two GBC members. I do not approve the proposal for constructing another new set of temples in the new land. If we construct temple, we must do it according to the big plan in the land already purchased. We have already one cottage in the land, and for three days it is not advisable to construct other houses. Those who have got permits may immediately go and remain in the cottage already there. If need be for three days you can rent some tents and cots. I am surprised that Calcutta cannot arrange even for your food expenditure in Mayapur, then what is the question of the festival?
So far Calcutta branch is concerned, it cannot be closed. It must be maintained. You have got permits for five men, and all of these men must go to Mayapur immediately and perform Sankirtan day and night. If Calcutta cannot supply your maintenance food, then Bombay will supply. So with great difficulty we have of the permits for permission, so with the exception of Bhanu who is going to Tokyo others may go to live there.
I have talked to Brahmananda Maharaj about all these things, and he is ready to take full charge of Calcutta and Mayapur but he is very busy here now. We have purchased a nice house in Nairobi. 50% of the payment, namely 122,000 Shs. has to be paid by the end of February. So after finishing this business if required he will come to India and take charge of things as required. But I am simply surprised why you are so disappointed with Calcutta affairs so you cannot maintain the devotees in Mayapur for ten days even.
I am sending a copy of this letter as well as your letter with enclosures to Tamal Krishna Maharaj, and I am also returning to Bombay and then we shall discuss and do the needful.
I hope this finds you in good health.
Your ever well wisher,
A.C. Bhaktivedanta Swami
cc: Tamal Krishna Maharaj, c/o Jaipur-