720227 - Letter to Bali-mardana written from Mayapur
From Vanisource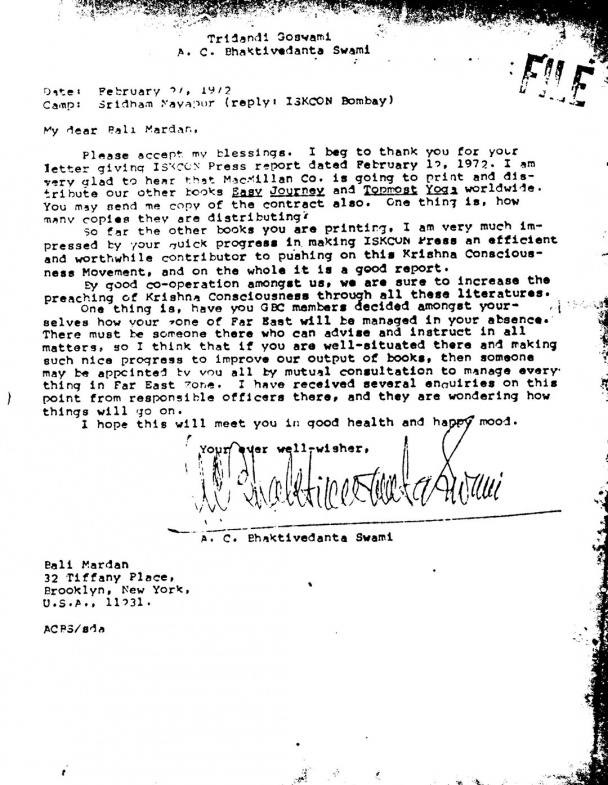 Tridandi Goswami
A.C. Bhaktivedanta Swami

Date:   February 27, 1972
Camp:  Sridham Mayapur (reply: ISKCON Bombay)
My dear Bali Mardan,
Please accept my blessings. I beg to thank you for your letter giving ISKCON Press report dated February 12, 1972. I am very glad to hear that MacMillan Co. is going to print and distribute our other books Easy Journey and Topmost Yoga worldwide. You may send me copy of the contract also. One thing is, how many copies they are distributing?
So far the other books you are printing, I am very much impressed by your quick progress in making ISKCON Press an efficient and worthwhile contributor to pushing on this Krishna Consciousness Movement, and on the whole it is a good report.
By good co-operation amongst us, we are sure to increase the preaching of Krishna Consciousness through all these literatures.
One thing is, have you GBC members decided amongst yourselves how your zone of Far East will be managed in your absence. There must be someone there who can advise and instruct in all matters, so I think that if you are well-situated there and making such nice progress to improve our output of books, then someone may be appointed by you all by mutual consultation to manage everything in Far East Zone. I have received several inquiries on this point from responsible officers there, and they are wondering how things will go on.
I hope this will meet you in good health and happy mood.
Your ever well-wisher,


A.C. Bhaktivedanta Swami

Bali Mardan
32 Tiffany Place
Brooklyn, New York,
U.S.A., 11231
ACBS/sda