720402 - Letter to Hansadutta written from Sydney
From Vanisource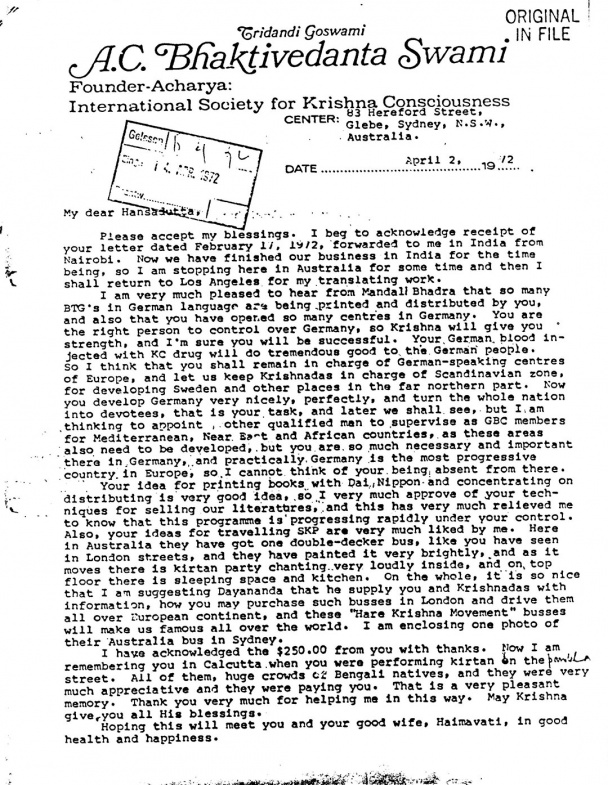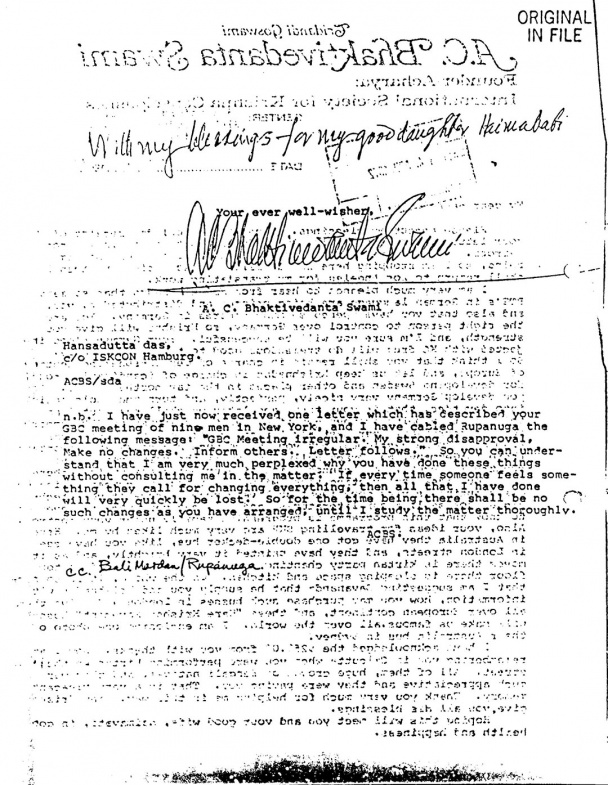 Tridandi Goswami
A.C. Bhaktivedanta Swami
Founder-Acharya:
International Society for Krishna Consciousness
CENTER: 83 Hereford Street,
              Glebe, Sydney, N.S.W.,
              Australia.
DATE .................April..2,....19.72..


My dear Hansadutta,
Please accept my blessings. I beg to acknowledge receipt of your letter dated February 17, 1972, forwarded to me in India from Nairobi. Now we have finished our business in India for the time being, so I am stopping here in Australia for some time and then I shall return to Los Angeles for my translating work.
I am very much pleased to hear from Mandali Bhadra that so many BTG's in German language are being printed and distributed by you, and also that you have opened so many centers in Germany. You are the right person to control over Germany, so Krishna will give you strength, and I'm sure you will be successful. Your German blood injected with KC drug will do tremendous good to the German people. So I think that you shall remain in charge of German-speaking centers of Europe, and let us keep Krishnadas in charge of Scandinavian zone, for developing Sweden and other places in the far northern part. Now you develop Germany very nicely, perfectly, and turn the whole nation into devotees, that is your task, and later we shall see, but I am thinking to appoint other qualified men to supervise as GBC members for Mediterranean, Near East and African countries, as these areas also need to be developed, but you are so much necessary and important there in Germany, and practically Germany is the most progressive country in Europe, so I cannot think of your being absent from there.
Your idea for printing books with Dai Nippon and concentrating on distributing is very good idea, so I very much approve of your techniques for selling our literatures, and this have very much relieved me to know that this programme is progressing rapidly under your control. Also, you ideas for travelling SKP are very much liked by me. Here in Australia they have got one double-decker bus, like you have seen in London streets, and they have painted it very brightly, and as it moves there is kirtan party chanting very loudly inside, and on top floor there is sleeping space and kitchen. On the whole, it is so nice that I am suggesting Dayananda that he supply you and Krishna das with information, how you may purchase such busses in London and drive them all over European continent, and these "Hare Krishna Movement" busses will make us famous all over the world. I am enclosing one photo of their Australia bus in Sydney.
I have acknowledged the $250.00 from you with thanks. Now I am remembering you in Calcutta when you were performing kirtan on the [unclear] [handwritten] street. All of them, huge crowds of Bengali natives, and they were very much appreciative and they were paying you. That is a very pleasant memory. Thank you very much for helping me in this way. May Krishna give you all His blessings.
Hoping this will meet you and your good wife, Haimavati, in good health and happiness.

With blessings for my good daughter Haimavati. [handwritten]


Your ever well-wisher,



A.C. Bhaktivedanta Swami


Hansadutta das,
c/o ISKCON Hamburg.
ACBS/sda

n.b. I have just now received one letter which has described your GBC meeting of nine men in New York, and I have cabled Rupanuga the following message: "GBC Meeting irregular. My strong disapproval, Make no changes. Inform others. Letter follows." So you can understand that I am very much perplexed why you have done these things without consulting me in the matter. If every time someone feels something they call for changing everything, then all that I have done will very quickly be lost. So for the time being there shall be no such changes as you have arranged, until I study the matter thoroughly.
ACBS.

cc. Bali Mardan/Rupanuga [handwritten]