720408 - Letter to Gurudasa written from Sydney
From Vanisource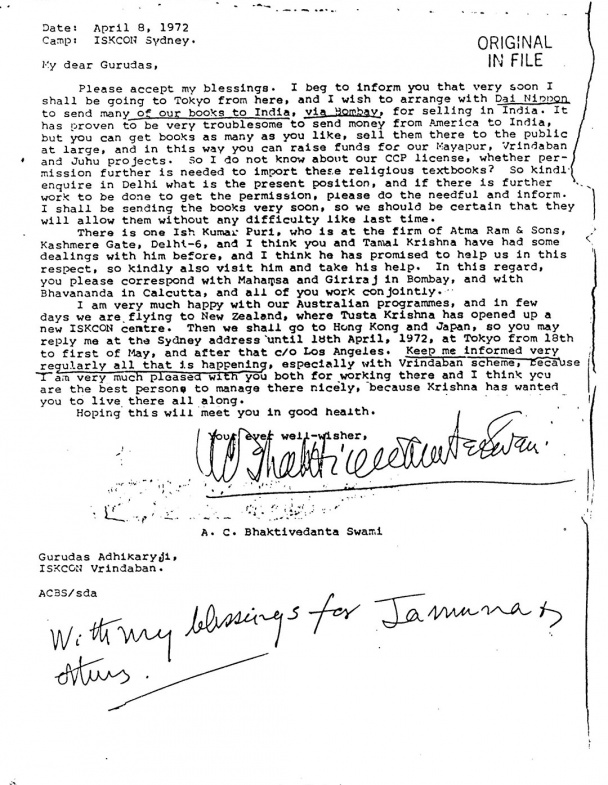 Date: April 8, 1972
Camp: ISKCON Sydney.
My dear Gurudas,
Please accept my blessings. I beg to inform you that very soon I shall be going to Tokyo from here, and I wish to arrange with Dai Nippon to send many of our books to India, via Bombay, for selling in India. It has proven to be very troublesome to send money from America to India, but you can get books as many as you like, sell them there to the public at large, and in this way you can raise funds for our Mayapur, Vrindaban and Juhu projects. So I do not know about our CCP license, whether permission further is needed to import these religious textbooks? So kindly enquire in Delhi what is the present position, and if there is further work to be done to get the permission, please do the needful and inform. I shall be sending the books very soon, so we should be certain that they will allow them without any difficulty like last time.
There is one Ish Kumar Puri, who is at the firm of Atma Ram & Sons, Kashmere Gate, Delhi-6, and I think you and Tamala Krishna have had some dealings with him before, and I think he has promised to help us in this respect, so kindly also visit him and take his help. In this regard, you please correspond with Mahamsa and Giriraj in Bombay, and with Bhavananda in Calcutta, and all of your work conjointly.
I am very much happy with our Australian programmes, and in few days we are flying to New Zealand, where Tusta Krishna has opened up a new ISKCON center. Then we shall go to Hong Kong and Japan, so you may reply me at the Sydney address until 18th April, 1972, at Tokyo from 18th to first of May, and after that c/o Los Angeles. Keep me informed very regularly all that is happening, especially with Vrindaban scheme, because I am very much pleased with you both for working there and I think you are the best persons to manage there nicely, because Krishna has wanted you to live there all along.
Hoping this will meet you in good health.
Your ever well-wisher,



A.C. Bhaktivedanta Swami

Gurudas Adhikary
ISKCON Vrindaban.
ACBS/sda

With my blessings for Jamuna and others. [handwritten]