720426 - Letter to Bali-mardana written from Tokyo
From Vanisource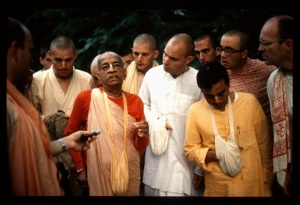 April 26, 1972

New York
My dear Bali Mardana,
Please accept my blessings. I beg to acknowledge receipt of your letter dated April 19, 1972, along with the French and German BTG's and other literature. They are very nice. I am very much encouraged by the increase in literature publication by ISKCON Press and also by the distribution by New York Temple. But they do not pay their bills, Karandhara is here and he has told me. Why is that, they do not pay their bills for literatures to my Book Fund? You can ask Rupanuga to report to me if this is true and give me accounting, and you also explain.
So far your coming to Los Angeles, you are doing very nicely there, why you should come? Besides, I want it that one GBC man will come to live with me for one month in rotation, and so I have asked Hayagriva to come first and stay with me for one month, and after he goes, then perhaps you can come next, we shall see.
Hoping this will meet you in good health.
Your ever well-wisher,
A.C. Bhaktivedanta Swami