720427 - Letter to Hayagriva written from Tokyo
From Vanisource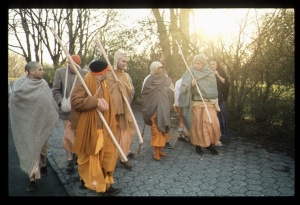 April 27, 1972

My Dear Hayagriva,
Please accept my blessings. I am presently in Japan where I am very much encouraged of the response of the Japanese people to our movement. I shall be departing from here to Hawaii on the 6th of May instant and thereafter I shall be coming to Los Angeles on about the 15th of May.
As you know, I am very eager to devote my full attention to writing my books when I return to Los Angeles. Therefore I am keeping Pradyumna with me and training him personally in Sanskrit work. I wish also that you join me when I return to Los Angeles so that the editing work may go on very efficiently. With both Pradyumna and yourself at my side then the work will go on very speedily. It is my serious desire to devote the fag end of my life to translating Srimad Bhagavatam and so many other Vaisnava literatures so by assisting me in this regards you will be performing the highest service to Krsna. I am anxious to hear from you concerning this proposal so you may send your reply care of our Hawaii branch and I shall receive it there.
Another thing is that I wanted that each GBC man spend one month with me out of the year so that I may personally instruct him. when I am in Los Angeles this program should be initiated. Since you will be coming then you will be the first and then the others may come succeedingly.
Hoping this will meet you in good health and happy mood.
Your ever well wisher,
A.C. Bhaktivedanta Swami
Sriman Hayagriva das Adhikary
ISKCON New Vrindaban
Rd. 3
Moundsville, W. Virginia
U.S.A.
ACB/kda
May