720511 - Letter to Gargamuni written from Honolulu
From Vanisource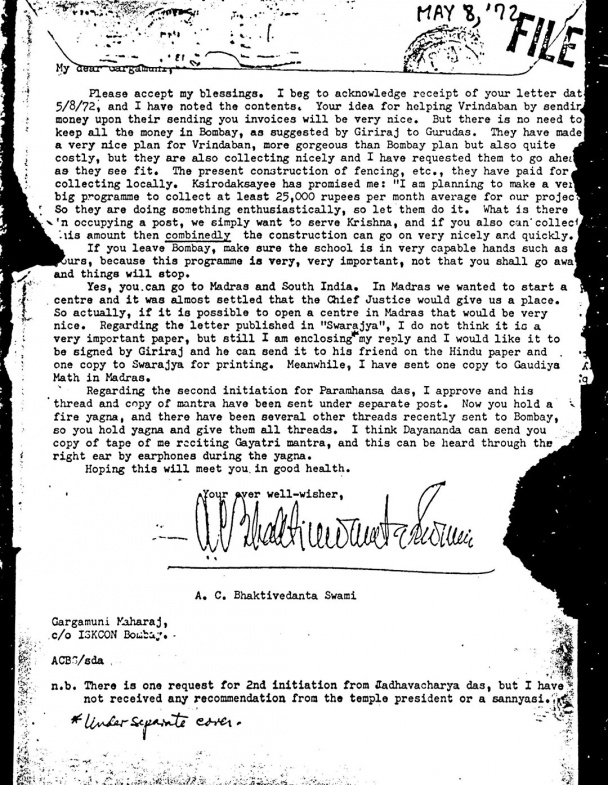 May 8,'72 [handwritten]


My dear Gargamuni,
Please accept my blessings. I beg to acknowledge receipt of your letter dated 5/8/72, and I have noted the contents. Your idea for helping Vrindaban by sending money upon their sending you invoices will be very nice. But there is no need to keep all the money in Bombay, as suggested by Giriraj to Gurudas. They have made a very nice plan for Vrindaban, more gorgeous than Bombay plan but also quite costly, but they are also collecting nicely and I have requested them to go ahead as they see fit. The present construction of fencing, etc., they have paid for collecting locally. Ksirodaksayee has promised me: "I am planning to make a very big programme to collect at least 25,000 rupees per month average for our project." So they are doing something enthusiastically, so let them do it. What is there in occupying a post, we simply want to serve Krishna, and if you also can collect this amount then combinedly the construction can go on very nicely and quickly.
If you leave Bombay, make sure the school is in very capable hands such as yours, because this programme is very, very important, not that you shall go away and things will stop.
Yes, you can go to Madras and South India. In Madras we wanted to start a centre and it was almost settled that the Chief Justice would give us a place. So actually, if it is possible to open a centre in Madras that would be very nice. Regarding the letter published in "Swarajya", I do not think it is a very important paper, but still I am enclosing* my reply and I would like it to be signed by Giriraj and he can send it to his friend on the Hindu paper and one copy to Swarajya for printing. Meanwhile, I have sent one copy to Gaudiya Math in Madras.
Regarding the second initiation for Paramhansa das, I approve and his thread and copy of mantra have been sent under separate post. Now you hold a fire yagna, and there have been several other threads recently sent to Bombay, so you hold yagna and give them all threads. I think Dayananda can send you copy of tape of me reciting Gayatri mantra, and this can be heard through the right ear by earphones during the yagna.
Hoping this will meet you in good health.
Your ever well-wisher,



A. C. Bhaktivedanta Swami

Gargamuni Maharaj,
c/o ISKCON Bombay.
ACBS/sda
n.b. There is one request for 2nd initiation from Jadhavacharya das, but I have not received any recommendation from the temple president or a sannyasi.
* under separate cover. [handwritten]