720526 - Letter to Puri Maharaj written from Los Angeles
From Vanisource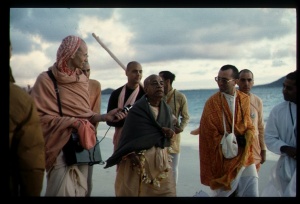 May 26, 1972

Sri B.V. Puri Maharaj
President, Sri Krishna Chaitanya Mission
Aryapuram, Rajahmundry 1 P.O.
S. India

My Dear Reverend Puri Maharaji,
Please accept my humble obeisances. I beg to acknowledge receipt of your letter from Rajahmundry dated May 19th, 1972. It is a good idea that you are proposing. The two claimants of proprietorship and the tenants should be given some money and they will go away. So I am advising my Bombay center to send you Rs. 1000/=. So now you do the needful, I am completely trusting in you in this matter. I am very glad that you are in contact with the chief minister of Orissa, Mr. Dass, he must have full knowledge of our world wide activities. Jagannatha Puri is one of the main headquarters of the Vaisnavas, so if the outsiders have trouble in entering Jagannatha Temple it will be a great scandal, so the government must be liberal on this point and co-operate, as we are trying to interest so many foreigners and tourists to come there. And if they co-operate we shall build a very nice center there. At least the government must agree to admit anyone who is certified by ISKCON. I know that they admit foreigners into the temple who are certified by some mayavadi sannyasis living there. So why not they shall allow anyone who is certified by me or the society? You know how strictly we are following the principles of Vaisnava way of life. So kindly try to persuade the government officials on this point and it will be a very great service to Srila Prabhupada's cause.
Bhaktivinode Thakur and Srila Prabhupada wanted that American and European Vaisnavas should come to India and join with dancing our Vaisnavas there, but if they have got some difficulty to enter into the temple it will be against the desire of Bhaktivinode Thakur and Bhaktisiddhanta Sarasvati. So I am sure that Mr. Dass, the chief minister, is a very nice gentleman, I know him personally. So while he is in the office he must rectify this anomaly and situate himself in the history for doing such nice service for Lord Chaitanya's mission.
I expect to hear from you soon regarding these matters and I shall look forward very much for your letter. Hoping this meets in you in good health.
Your ever well-wisher,
A.C. Bhaktivedanta Swami
Sri B.V. Puri Maharaj
Sri Krsna Chaitanya Mission
Aryapuram, Rajahmundry-1, F.G. District
INDIA