720528 - Letter to Deputy/Assistant Charity Commissioner written from Los Angeles
From Vanisource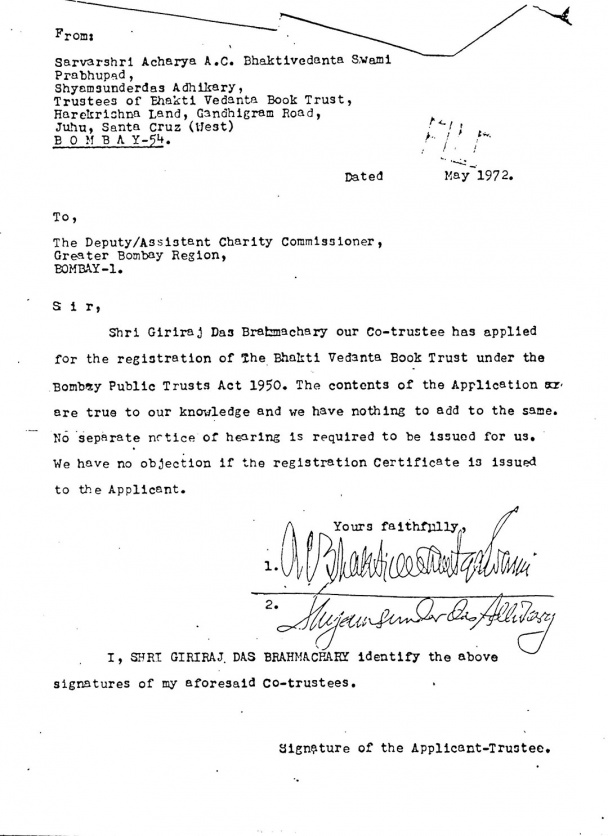 From:
Sarvarshri Acharya A.C. Bhaktivedanta Swami
Prabhupad,
Shyamsunderdas Adhikary,
Trustees of Bhakti Vedanta Book Trust,
Harekrishna Land, Gandhigram Road,
Juhu, Santa Cruz (West)
B O M B A Y-54.

Dated                 May 1972.

To, The Deputy/Assistant Charity Commissioner,
Greater Bombay Region,
BOMBAY-1.

Sir,
Shri Giriraj Das Brahmachary our Co-trustee has applied for the registration of The Bhakti Vedanta Book Trust under the Bombay Public Trusts Act 1950. The contents of the Application are true to our knowledge and we have nothing to add to the same. No separate notice of hearing is required to be issued for us. We have no objection if the registration Certificate is issued to the Applicant.

2.
I, SHRI GIRIRAJ DAS BRAHMACHARY identify the above signatures of my aforesaid Co/trustees.

Signature of the Applicant-Trustee.