720608 - Letter to Acyutananda written from Los Angeles
From Vanisource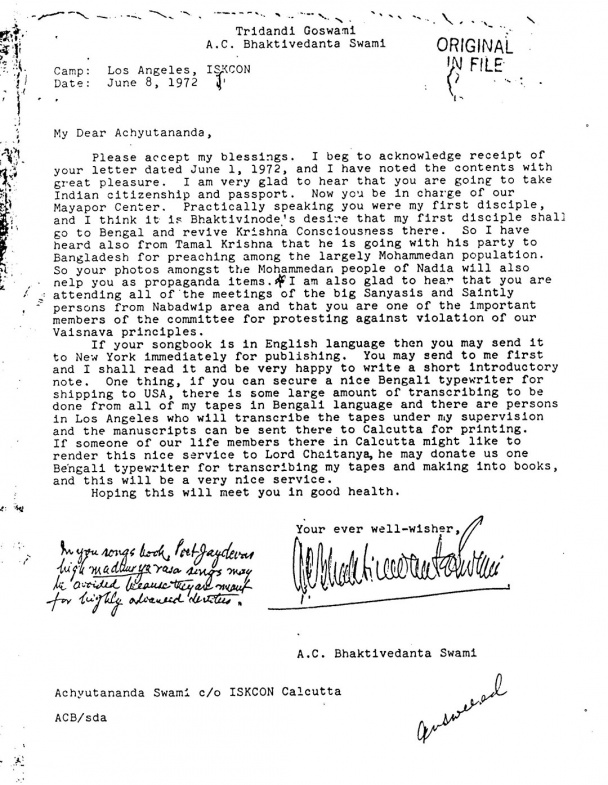 Tridandi Goswami
A.C. Bhaktivedanta Swami
Camp:   Los Angeles, ISKCON
Date:    June 8, 1972

My Dear Achyutananda,
Please accept my blessings. I beg to acknowledge receipt of your letter dated June 1, 1972, and I have noted the contents with great pleasure. I am very glad to hear that you are going to take Indian citizenship and passport. Now you be in charge of our Mayapur Center. Practically speaking you were my first disciple, and I think it is Bhaktivinode's desire that my first disciple shall go to Bengal and revive Krishna Consciousness there. So I have heard also from Tamal Krishna that he is going with his party to Bangladesh for preaching among the largely Mohammedan population. So your photos amongst the Mohammedan people of Nadia will also help you as propaganda items.* I am also glad to hear that you are attending all of the meetings of the big Sanyasis and Saintly persons from Nabadwip area and that you are one of the important members of the committee for protesting against violation of our Vaisnava principles.
If your songbook is in English language then you may send it to New York immediately for publishing. You may send to me first and I shall read it and be very happy to write a short introductory note. One thing, if you can secure a nice Bengali typewriter for shipping to USA, there is some large amount of transcribing to be done from all of my tapes in Bengali language and there are persons in Los Angeles who will transcribe the tapes under my supervision and the manuscripts can be sent there to Calcutta for printing. If someone of our life members there in Calcutta might like to render this nice service to Lord Chaitanya, he may donate us one Bengali typewriter for transcribing my tapes and making into books, and this will be a very nice service.
Hoping this will meet you in good health.

Your ever well-wisher,





A.C. Bhaktivedanta Swami

In your song book, poet Jayadeva's high madhurya rasa songs may be avoided because they are meant for highly advanced devotees. [handwritten]
Achyutananda Swami c/o ISKCON Calcutta
ACBS/sda
answered [handwritten]