720616 - Letter to Mahamsa written from Los Angeles
From Vanisource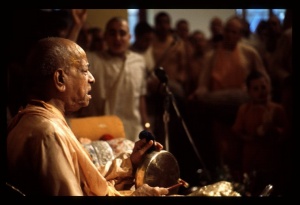 June 16, 1972

CENTER: Los Angeles, ISKCON
My Dear Mahamsa,
Please accept my blessings. I beg to acknowledge receipt of your letter dated June, 4, 1972, along with financial statements, and I have noted the contents. The garden should not be in any way discouraged. Develop it as far as possible and spend profusely. Grow unlimited amounts of flowers to decorate the Deities profusely, so that simply for our Deities and the garden people will come to see. So the plan of Naranarayan to extend the garden to all the vacant places on the property is very good, so you may work together conjointly how to make it the most beautiful garden in Bombay. Regarding your second point, it is better to save your money to construct a nice house for Radha and Krishna. If Gargamuni has purchased some bonds with the money he has collected, that is alright. I thought that Dravida was working very hard to collect donations of foodstuffs for our distribution program. Why the donations have decreased? This is not very good. We should continue to increase, not decrease. If it is a question of manpower you may give Dravida as much help as he may require to canvass big men in Bombay for collecting the foodstuffs. It is very important the important men in Bombay cooperate with us in this prasadam distribution, and they will be always very glad to give for our worthy cause.
So far your proposal to invest in fixed deposit bonds, we shall wait to see when I go there. It may be required at anytime to withdraw money, so we have to see the situation because we have taken on this huge construction work in Bombay, Vrndavana, and Mayapur.
Now my idea for the foundation in the south corner of the Juhu property is to build up a permanent residence there. Get sanction from the municipality and construct a residential skyscraper as high as possible. I think some part of the existing foundations there may have to be taken down but we must utilize that space. No more temporary structures, they are simply a waste of money when we should be investing that money into permanent quarters. And when that residence building is completed, we may demolish the temporary building with tarpaulin roof which you are now occupying, and in the same way build up another permanent building.
Gargamuni has been advised by me to begin his traveling and preaching program like Tamal Krsna is doing. So if he will require your help to make arrangements, kindly assist him in any way you can.
Hoping this meets you in good health,
Your ever well wisher,
A. C. Bhaktivedanta Swami
Mahamsa dasa Brahmacari c/o ISKCON Bombay