720809 - Letter to Yasodanandana and Gurukrpa written from London
From Vanisource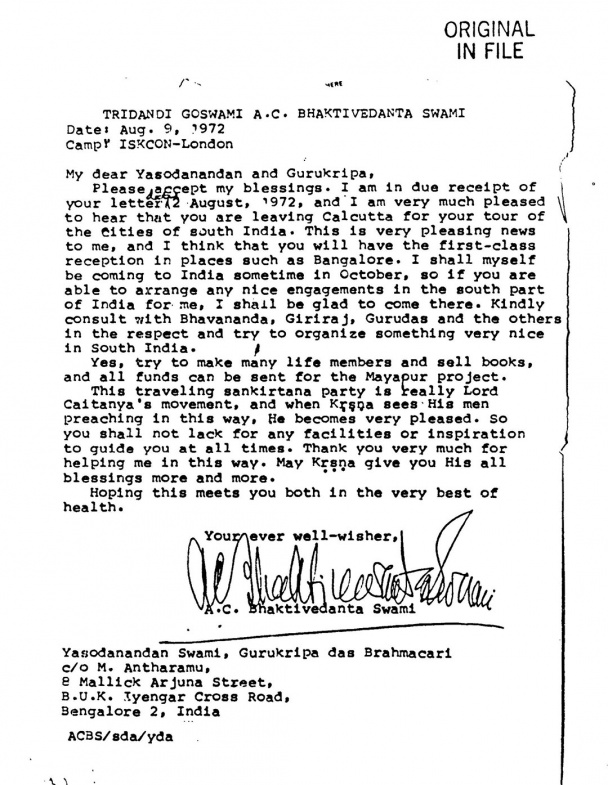 TRIDANDI GOSWAMI A.C. BHAKTIVEDANTA SWAMI
Date:   Aug. 9, 1972
Camp:  ISKCON-London

My dear Yasodanandan and Gurukripa,
Please accept my blessings. I am in due receipt of your letter dated [handwritten] 2 August, 1972, and I am very much pleased to hear that you are leaving Calcutta for your tour of the cities of south India. This is very pleasing news to me, and I think that you will have the first-class reception in places such as Bangalore. I shall myself be coming to India sometime in October, so if you are able to arrange any nice engagements in the south part of India for me, I shall be glad to come there. Kindly consult with Bhavananda, Giriraj, Gurudas and the others in the respect and try to organize something very nice in South India.
Yes, try to make many life members and sell books, and all funds can be sent for the Mayapur project.
This traveling sankirtana party is really Lord Caitanya's movement, and when Kṛṣṇa sees His men preaching in this way, He becomes very pleased. So you shall not lack for any facilities or inspiration to guide you at all times. Thank you very much for helping me in this way. May Kṛṣṇa give you His all blessings more and more.
Hoping this meets you both in the very best of health.

Your ever well-wisher,



A.C. Bhaktivedanta Swami

Yasodanandan Swami, Gurukripa das Brahmacari
c/o M. Antharamu,
8, Mallick Arjuna Street,
B.U.K. Iyengar Cross Road
Bangalore 2, India
ACBS/sda/yda