721011 - Letter to Tamala Krishna and Giriraja written from Manila
From Vanisource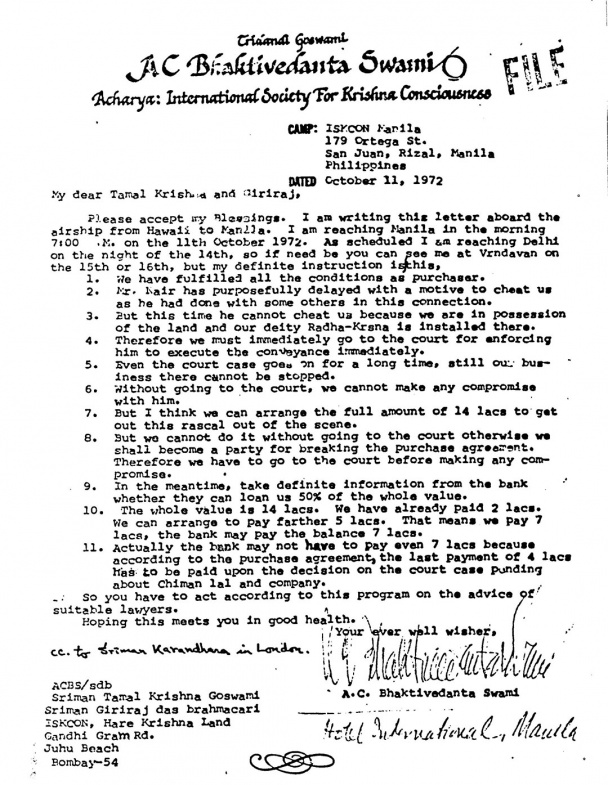 Tridandi Goswami
A.C. BHAKTIVEDANTA SWAMI
Acharya:INTERNATIONALE SOCIETY FOR KRISHNA CONSCIOUSNESS
CAMP: ISKCON Manila
179 Ortega St.
San Juan, Rizal, Manila
Philippines
October 11, 1972
My dear Tamal Krishna and Giriraj,
Please accept my Blessings. I am writing this letter aboard the airship from Hawaii to Manila. I am reaching Manila in the morning 7:00 A.M. on the 11th October 1972. As scheduled I am reaching Delhi on the night of the 14th, so if need be you can see me at Vrndavan on the 15th or 16th, but my definite instruction is this,
1. We have fulfilled all the conditions as purchaser.
2. Mr. Nair has purposefully delayed with a motive to cheat us as he had done with some others in this connection.
3. But this time he cannot cheat us because we are in possession of the land and our deity Radha-Krsna is installed there.
4. Therefore we must immediately go to the court for enforcing him to execute the conveyance immediately.
5. Even the court case goes on for a long time, still our business there cannot be stopped.
6. Without going to the court, we cannot make any compromise with him.
7. But I think we can arrange the full amount of 14 lacs to get out this rascal out of the scene.
8. But we cannot do it without going to the court otherwise we shall become a party for breaking the purchase agreement. Therefore we have to go to the court before making any compromise.
9. In the meantime, take definite information from the bank whether they can loan us 50% of the whole value.
10. The whole value is 14 lacs. We have already paid 2 lacs. We can arrange to pay farther 5 lacs. That means we pay 7 lacs, the bank may pay the balance 7 lacs.
11. Actually the bank may not have to pay even 7 lacs because according to the purchase agreement, the last payment of 4 lacs has to be paid upon the decision on the court case pending about Chiman lal and company.
So you have to act according to this program on the advice of suitable lawyers.
Hoping this meets you in good health.
Your ever well wisher,
[signed]
A.C. Bhaktivedanta Swami
cc. to Sriman Karandhar in London[handwritten]
ACBS/sdb
Sriman Tamal Krishna Goswami
Srimanand Giriraj das Brahmacari
ISKCON, Hare Krishna Land
Gandhi Gram Rd.
Juhu Beach
Bombay-54