721023 - Letter to Purnaprajna and Madhavananda written from Vrndavana
From Vanisource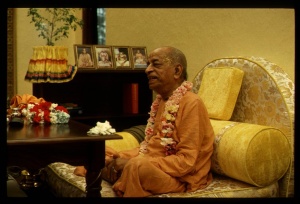 October 23, 1972

My Dear Purnaprajna and Madhavananda,
Please accept my blessings. I beg to acknowledge receipt of your letter dated September 25, 1972, only just now forwarded by our Los Angeles center. Do not worry, I have asked Bhavananda to return to Calcutta, and he should be returning there soon. If there is any slip in enthusiasm, then how things will go on? I have seen in Bombay everything is deteriorating, simply because this enthusiasm is lacking. Enthusiasm and patience, these things required first. But if we are not able to maintain, how we shall expand further? There must be regularly classes and reading books, chanting 16 rounds, going for kirtana, like that. This is our programme for enthusiasm, if you do not follow it, what can I do? If you are supervising in Bhavananda's absence, you must see these things are going on, that everyone is strictly observing these practices, then there will be no lacking for anything.
I am coming to Calcutta-side sometimes in January for our pandal Maidan programme, so you may inform me from time to time how the preparations are going for that pandal. Jayapataka has told me that our Mayapur building will be completed by that time, so if there is facility, I shall remain there for some time.
Hoping this meets you in good health.
Your ever well-wisher,
A.C. Bhaktivedanta Swami