730104 - Letter to Revatinandana written from Bombay
From Vanisource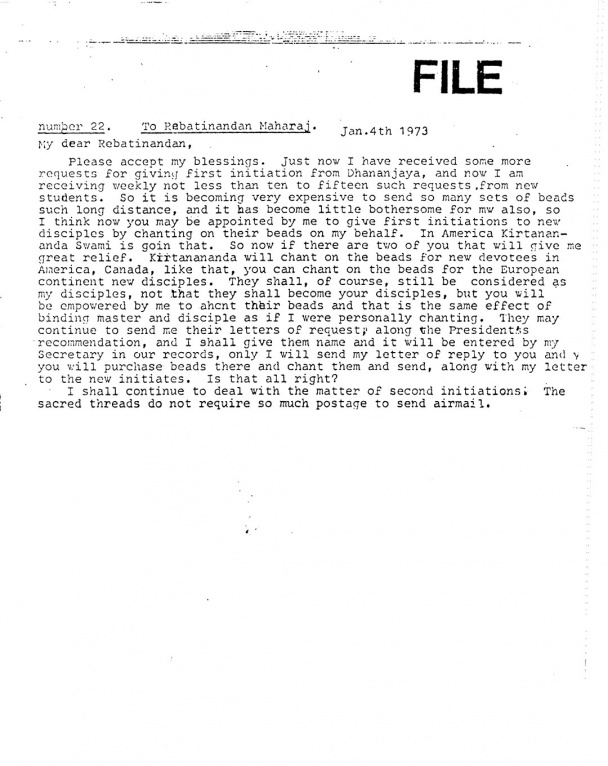 number 22       Rabatinandan Maharaj       Jan.4th 1973
My Dear Rebatinandan,
Please accept my blessings. Just now I have received some more requests for giving first initiation from Dhananjaya, and now I am receiving weekly not less than ten to fifteen such requests from new students. So it is becoming very expensive to send so many sets of beads such long distance, and it has become little bothersome for me also, so I think now you may be appointed by me to give first initiations to new disciples by chanting on their beads on my behalf. In America Kirtanananda Swami is doing that. So now if there are two of you that will give me great relief. Kirtanananda will chant on the beads for new devotees in America, Canada, like that, you can chant on the beads for the European continent new disciples. They shall, of course, still be considered as my disciples, not that they shall become your disciples, but you will be empowered by me to chant their beads and that is the same effect of binding master and disciple as if I were personally chanting. They may continue to send me their letters of request, along the President's recommendation, and I shall give them name and it will be entered by my Secretary in our records, only I will send my letter of reply to you and you will purchase beads there and chant them and send, along with my letter to the new initiates. Is that all right?
I shall continue to deal with the matter of second initiations. The sacred threads do not require so much postage to send airmail.