730105 - Letter to Bhutatma written from Bombay
From Vanisource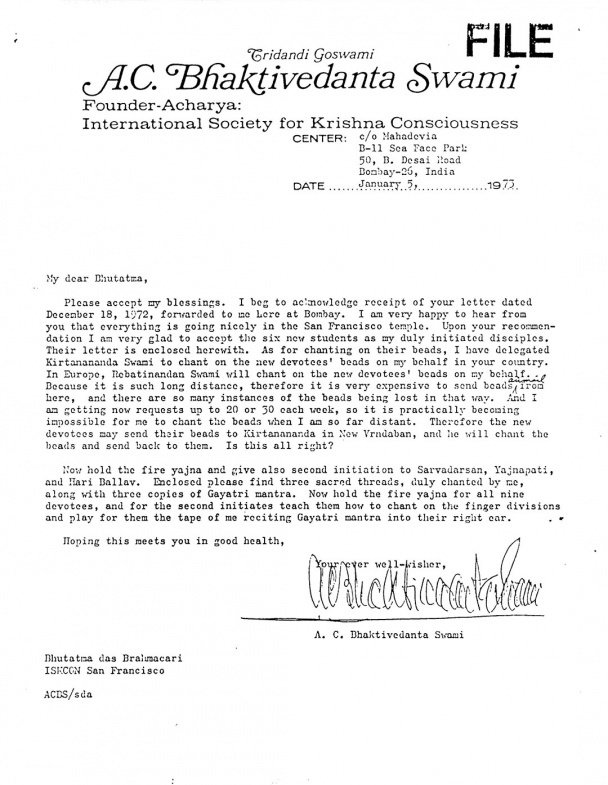 Tridandi Goswami
A.C. Bhaktivedanta Swami
Founder-Acharya:
International Society for Krishna Consciousness
CENTER:   c/o Mahadevia
                B-11 Sea Face Park
                50-B Desai Road
                Bombay-26. India
DATE ........January..5,......................1973.


My dear Bhutatma,
Please accept my blessings. I beg to acknowledge receipt of your letter dated December 18, 1972, forwarded to me here at Bombay. I am very happy to hear from you that everything is going nicely in the San Francisco temple. Upon your recommendation I am very glad to accept the six new students as my duly initiated disciples. Their letter is enclosed herewith. As for chanting on their beads, I have delegated Kirtanananda Swami to chant on the new devotees' beads on my behalf in your country. In Europe, Rebatinandana Swami will chant on the new devotees' beads on my behalf. Because it is such long distance, therefore it is very expensive to send beads airmail [handwritten] from here, and there are so many instances of the beads being lost in that way. And I am getting now requests up to 20 or 30 each week, so it is practically becoming impossible for me to chant the beads when I am so far distant. Therefore the new devotees may send their beads to Kirtanananda in New Vrndaban, and he will chant the beads and send back to them. Is this all right?
Now hold the fire yajna and give also second initiation to Sarvadarsan, Yajnapati, and Hari Ballav. Enclosed please find three sacred threads, duly chanted by me, along with three copies of Gayatri mantra. Now hold the fire yajna for all nine devotees, and for the second initiates teach them how to chant on the finger divisions and play for them the tape of me reciting Gayatri mantra into their right ear.
Hoping this meets you in good health,
Your ever well-wisher,


A.C. Bhaktivedanta Swami
Bhutatma das Brahmacari
ISKCON San Francisco
ACBS/sda