730105 - Letter to Kirtanananda written from Bombay
From Vanisource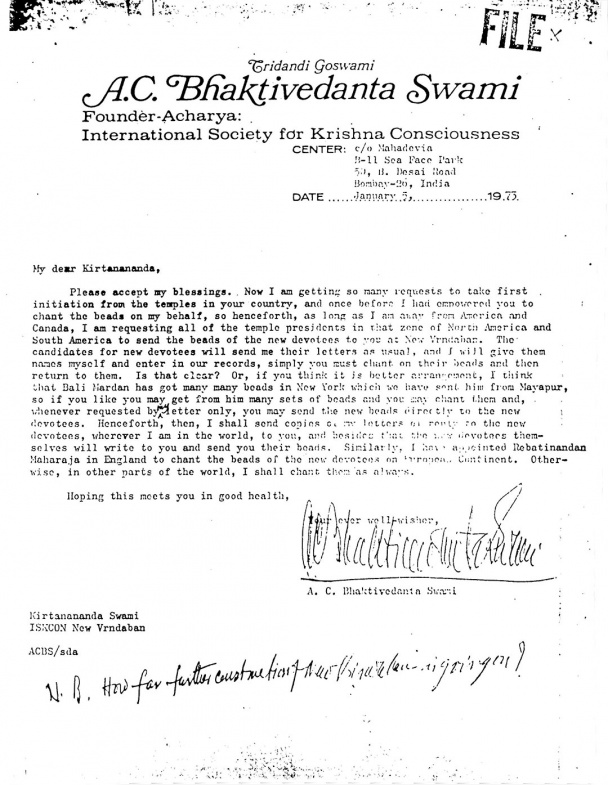 Tridandi Goswami
A.C. Bhaktivedanta Swami
Founder-Acharya:
International Society for Krishna Consciousness
CENTER:  c/o Mahadevia
               B-11 Sea Face Park
               50-B Desai Road
               Bombay-26. India
DATE ........January..5,.................19.73


My dear Kirtanananda,
Please accept my blessings. Now I am getting so many requests to take first initiation from temples in your country, and once before I had empowered you to chant the beads on my behalf, so henceforth, as long as I am away from America and Canada, I am requesting all of the temple presidents in that zone of North America and South America to send the beads of the new devotees to you at New Vrndaban. The candidates for new devotees will send me their letters as usual, and I will give them names myself and enter in our records, simply you must chant on their beads and then return to them. Is that clear? Or, if you think it is better arrangement, I think that Bali Mardan has got many many beads in New York which we have sent him from Mayapur, so if you like you may get from him many sets of beads and you may chant them and, whenever requested by my letter only, you may send the new beads directly to the new devotees. Henceforth, then, I shall send copies of my letters of reply to the new devotees, wherever I am in the world, to you, and besides that the new devotees themselves will write to you and send you their beads. Similarly, I have appointed Rebatinandan Maharaja in England to chant the beads of the new devotees on European Continent. Otherwise, in other parts of the world, I shall chant them as always.
Hoping this meets you in good health,
Your ever well-wisher,



A.C. Bhaktivedanta Swami

Kirtanananda Swami
ISKCON New Vrndaban
ACBS/sda
N.B. How far further construction of New Vrndaban is going on? [handwritten]