730210 - Letter to Kurusrestha written from Melbourne
From Vanisource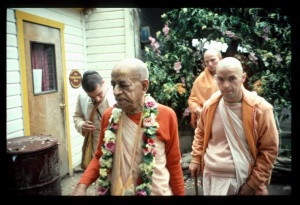 February 10, 1973

My Dear Kurusrestha,
Please accept my blessings. I am in due receipt of your letter dated January 16th, and have noted the contents carefully. I can see that Lord Caitanya is giving you good intelligence to carry on in this way and infiltrate all facets of society with the sublime process of Krishna Consciousness, for this is the only way that you can save these rascals. Regarding your progams for specialized public relations department as far as my experiences go, I have seen that this is not very successful, but you may consult Karandhara in this regard and do the needful.
Second initiations of Sudarsani dasi and Madhurya-lilananda dasi are duly approved by me. Enclosed you will find the Gayatri Mantra slips. You may have one fire ceremony and they may listen to the tape of me chanting the Gayatri Mantra in their right ear and repeat it. Regarding the first initiations, they are also approved by me and their names are as follows. Dan Swanson is now Dvijati Pujaka das, Christopher Beard is now Carucandra das, Phillip West is now Prabala das and Rebecca Strowger is now Rupa Ramesvari dasi. Will you please send one copy of this letter to Kirtanananda Swami along with their beads of the aspiring devotees for I have authorized him to chant on the beads on my behalf.
In all your real estate dealings you may please take all guidance from Karandhara and proceed very cautiously. Always chanting sixteen rounds daily and following the principles, and in this way maya will never touch you. I hope that this meets you in good health.
Your ever well-wisher,
A.C. Bhaktivedanta Swami
ACBS/ms