730217 - Letter to Govinda dasi written from Sydney
From Vanisource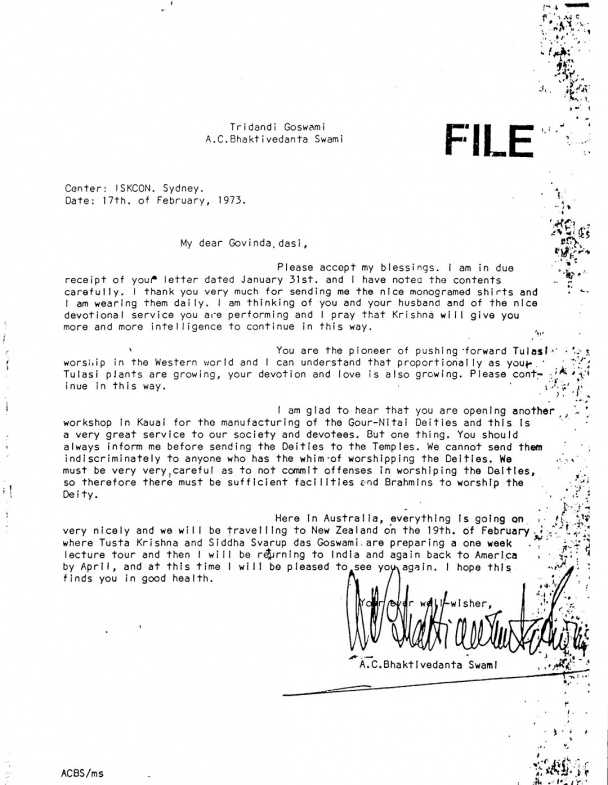 Tridandi Goswami
A.C. Bhaktivedanta Swami

Center:   ISKCON Sydney
Date:   17th. of February, 1973

My Dear Govinda dasi,
Please accept my blessings. I am in due receipt of your letter dated January 31st. and I have noted the contents carefully. I thank you very much for sending me the nice monogrammed shirts and I am wearing them daily. I am thinking of you and your husband and of the nice devotional service you are performing and I pray that Krishna will give you more and more intelligence to continue in this way.
You are the pioneer of pushing forward Tulasi worship in the Western world and I can understand that proportionally as your Tulasi plants are growing, your devotion and love is also growing. Please continue in this way.
I am glad to hear that you are opening another workshop in Kauai for the manufacturing of the Gour-Nitai Deities and this is a very great service to our society and devotees. But one thing. You should always inform me before sending the Deities to the Temples. We cannot send them indiscriminately to anyone who has the whim of worshiping the Deities. We must be very very careful as to not commit offenses in worshiping the Deities, so therefore there must be sufficient facilities and Brahmins to worship the Deity.
Here in Australia, everything is going on very nicely and we will be travelling to New Zealand on the 19th. of February where Tusta Krishna and Siddha Svarup das Goswami are preparing a one week lecture tour and then I will be returning [handwritten] to India and again back to America by April, and at this time I will be pleased to see you again. I hope this finds you in good health.