730217 - Letter to Hansadutta written from Sydney
From Vanisource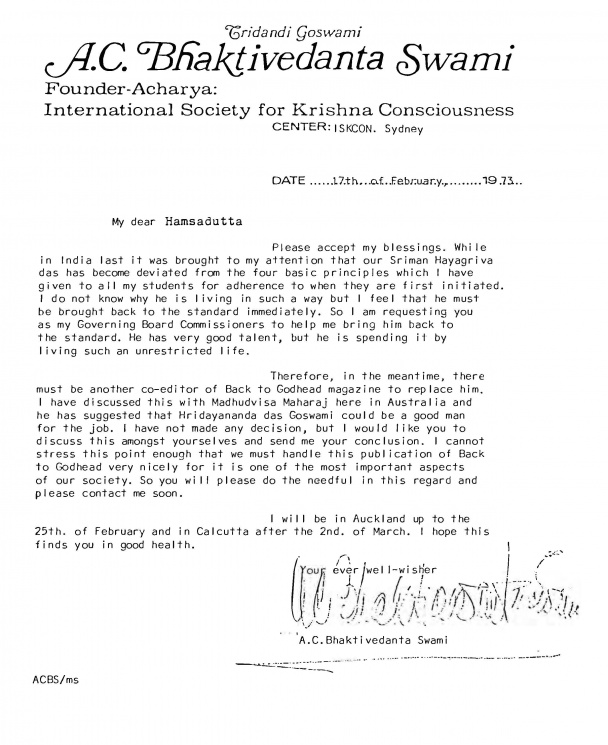 Tridandi Goswami
A.C. Bhaktivedanta Swami
Founder-Acharya:
International Society for Krishna Consciousness
CENTER: ISKCON Sydney

DATE .....17th..of..February,........1973..

My Dear Hansadutta
Please accept my blessings. While in India last it was brought to my attention that our Sriman Hayagriva das has become deviated from the four basic principles which I have given to all my students for adherence to when they are first initiated. I do not know why he is living in such a way but I feel that he must be brought back to the standard immediately. So I am requesting you as my Governing Board Commissioners to help me bring him back to the standard. He has very good talent, but he is spending it by living such an unrestricted life.
Therefore, in the meantime, there must be another co-editor of Back to Godhead magazine to replace him. I have discussed this with Madhudvisa Maharaj here in Australia and he has suggested that Hridayananda das Goswami could be a good man for the job. I have not made any decision, but I would like you to discuss this amongst yourselves and send me your conclusion. I cannot stress this point enough that we must handle this publication of Back to Godhead very nicely for it is one of the most important aspects of our society. So you will please do the needful in this regard and please contact me soon.
I will be in Auckland up to the 25th. of February and in Calcutta after the 2nd. of March. I hope this finds you in good health.